UK most powerful attack submarine HMS Astute officially commissioned
Saturday, August 28th 2010 - 07:08 UTC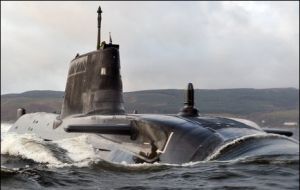 The UK's most powerful attack submarine, HMS Astute, was welcomed into the Royal Navy on Friday. In a Commissioning ceremony overseen by the boat's patron the Duchess of Cornwall, Astute officially became 'Her Majesty's Ship'.
HMS Astute is quieter than any of her predecessors, meaning she has the ability to operate covertly and remain undetected in almost all circumstances despite being fifty per cent bigger than any attack submarine in the Royal Navy's current fleet.
The latest nuclear powered technology means she will never need to be refuelled and can circumnavigate the world submerged, creating the crew's oxygen from seawater as she sails.
The submarine has the capacity to carry a mix of Spearfish heavyweight torpedoes and Tomahawk Land Attack Cruise missiles – and can target enemy submarines, surface ships and land targets with pinpoint accuracy, while her world-beating sonar system is capable of detecting ships and submarines at many hundreds of miles.
"The Astute Class is truly next generation –- a highly versatile platform she is capable of contributing across a broad spectrum of maritime operations around the globe, and will play an important role in delivering the fighting power of the Royal Navy for decades to come. A highly complex feat of naval engineering, she is at the very cutting edge of technology, with a suite of sensors and weapons required to pack a powerful punch", said Admiral Sir Mark Stanhope, First Sea Lord.
"Today is an important milestone along the road to full operational capability which will follow after a further series of demanding seagoing trials testing the full range of the submarine's capabilities", he added.
"HMS Astute has today also reached an important milestone on the road to operational handover. Following the successful completion of the first rigorous set of sea trials which began at the end of 2009, she has achieved her In Service Date signalling that she has proven her ability to dive, surface and operate across the full range of depth and speed independently of other assets thereby providing an initial level of capability".
Rear Admiral Simon Lister, Director Submarines, who oversees the build programme of the class for the MOD, said that "to my mind Astute is a 7,000 tons Swiss watch. There is an extraordinary amount of expertise that goes into putting one of these submarines together. There are stages when it's like blacksmithing and there are stages when it's like brain surgery".
"So to see Astute commissioned is momentous not only for the Royal Navy, who have been eagerly anticipating this quantum leap forward in capability, but for the thousands of people around the country who have been involved in the most challenging of engineering projects".
Following the Commissioning, HMS Astute will return to sea for further trials of the submarine and her crew before she is declared as operational.
As the base port of all the Navy's submarines from 2016, Faslane will be home to the whole Astute class, which includes Ambush, Artful and Audacious which are already under construction in Barrow-in-Furness by BAE Systems.
HMS Astute was built by BAE in Barrow-in-Furness. She's 97 metres from bow to stern – almost as long than a football pitch and displaces 7,400 tons of sea water – the equivalent of 65 blue whales.
HMS Astute is the first Royal Navy submarine not to have a traditional periscope instead using electro-optics to capture a 360 image of the surface for subsequent analysis by the Commanding Officer.
She manufactures her own oxygen from sea water as well as drinking water and could theoretically remain submerged for her 25 year life if it weren't for the need to restock the crew's food supplies. Faster under the water than on the surface she is capable of speeds in excess of 20 knots although her top speed is classified
HMS Astute 98 crew members are fed by five chefs who, on an average patrol, will serve up 18,000 sausages and 4,200 Weetabix for breakfast.