Rare freshwater pink dolphins rescued in several days' operation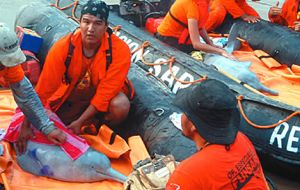 A total of 19 pink freshwater dolphins belonging to an extremely rare species living in the east of landlocked Bolivia have been rescued from a river covered in mud and deforestation residue, reported the Santa Cruz province governors' office.
The "bufeos" as they are called in Bolivia were transported from the river Paila to the River Grande, where they were released in a habitat more appropriate and protected for the pink dolphins.
The biologists and environmentalists working in the rescue operation were expecting to find nine specimens but came across 22, of which so far they have managed to recover 19, said a release from the Governor's office.
Biologist Mariana Escobar who participated in the rescue operation said that it is a genetically unique species different from those that exist in the South American Orinoco and Amazon river basins.
The animals had swum from their normal home in the Rio Grande into the more tranquil Rio Paila to breed. Flooding and debris blocked the river and prevented them from returning to their habitat. They were at risk of dying as the dry season lowers the smaller river.
Rescuers caught the dolphin in nets and carried them in padded containers in an all-terrain vehicle to the larger river, where they were released. The dolphins weight about 30 to 40 kilograms.
Santa Cruz governor Ruben Costas who participated in the several days rescue operation said that the area where the dolphins were trapped has been declared a "protected area" to prevent further deterioration of the habitat and the region's flora and fauna.