Former Chavez advisor claims Army weapons were supplied to Colombian FARC guerrilla
Tuesday, August 31st 2010 - 03:51 UTC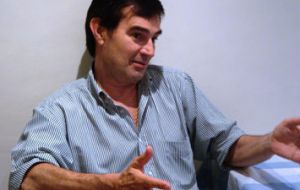 Carlos Molina Tamayo, a former national security advisor to Venezuelan President Hugo Chavez, claims that he was witness to the Venezuelan government first attempts to clandestinely supply Colombian FARC guerrillas with weapons.
Molina Tamayo, a retired rear admiral, who is exiled in Europe following a failed 2002 coup, told Miami's El Nuevo Heraldo that a close ally of Chavez's, retired navy Capitan Ramon Rodriguez Chacin, asked him to hand over weapons to the FARC guerrilla when he was in charge of the Venezuelan armed forces' weaponry.
"Rodriguez Chacin asked me for 300 FAL rifles. He only told me that it was for an irregular operation but it was understood that it was a guerrilla operation. He asked me from where he could take them out without being detected," Molina Tamayo said.
According to El Nuevo Herald, the former advisor to Chavez was never again asked to hand over weapons but several months later the Venezuelan armed forces reported that weaponry had disappeared and the ensuing investigation determined that members of the army had been involved or in complicity with the disappearances.
"Sometimes there were operations in which arms were stolen, or in which they pretended that they were being stolen, in order to hand them over to the FARC guerrilla. Not just rifles, mortars and grenades but also anti-tank AT4 rockets also disappeared and later appeared in the hands of the Colombian guerrilla" Molina Tamayo pointed out.
Despite his reported refusal to cooperate, Molina Tamayo was later named standing secretary for Venezuela's Council on Security and Defence. However following constant clashes with Chavez he was given the post of Venezuelan ambassador to Greece.
From Greece Molina Tamayo handed his resignation and demanded the same of Chavez, for the latter's alleged links to Colombia guerrilla.
At the end of July, the administration of former President Alvaro Uribe presented evidence before the Organization of American States, OAS, claiming that Venezuela was harbouring guerrillas. The allegations led Chavez to break all ties with Colombia. Relations were restored a few weeks later during a meeting between Chavez and newly sworn-in Colombian President Juan Manuel Santos.
Chavez in the midst of campaigning for September 26 legislative elections claims he is being targeted by the international media with unfounded accusations, intrigues and lies.
The Venezuelan president is also accused of having close links with "Islamic terrorism". Several articles on the issue have been published in the web, Italian newspapers and the US media.
Chavez diplomatic and trade relations with Iran, described as "strategic" have also been under fire, and last week The New York Times and the Spanish media published that "Venezuela was more dangerous than Baghdad" because of rampant crime which "took 19.133 lives in 2009", according to official data.