Korea and Peru conclude free trade agreement effective next year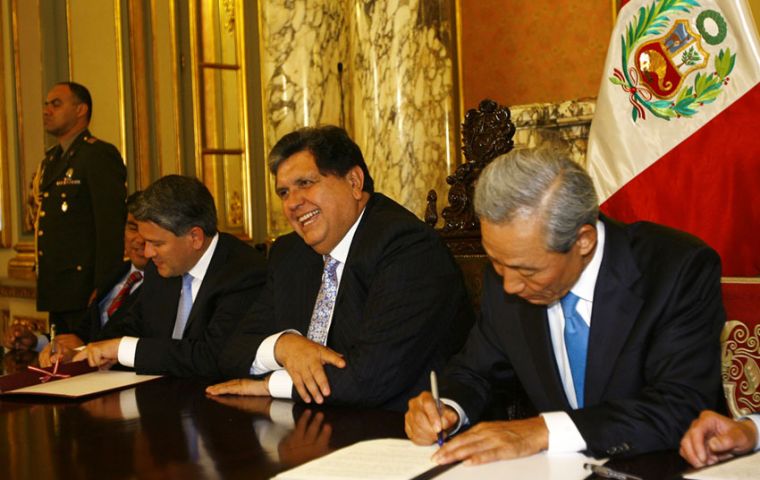 Korea and Peru concluded in Lima negotiations for a free trade agreement (FTA), which is expected to go into effect midway through next year once it is approved by the parliaments of the two countries.

The agreement reached this week boosts bilateral trade which has risen over the past few years to 1.4 billion USD in 2009. The target is 7 billion USD by 2016 said Peruvian president Alan García at the ceremony in Government Palace.

"This is a long term alliance with Korea and I'm sure we will see the first results very soon although it will consolidate in the following decades" underlined García.

In a joint statement on the conclusion of the one-and-a-half year negotiations, the two parties said the comprehensive pact involving goods, services and investment would be mutually beneficial.

"We agreed that the Korea-Peru FTA, among its main benefits, creates an institutional framework and favourable climate for trade and investment between the parties, provides better market access through elimination of tariff and non-tariff measures, gives incentives to promote foreign direct investment, and includes instrumental provisions to enhance the welfare of both parties,'' it said.

Under the agreement, Korea and Peru are required to scrap tariffs on most items in less than 10 years with the exception of 107 agricultural and marine products such as rice, beef, onion and garlic.

From the perspective of Asia's fourth-largest economy, manufacturers of automobiles, electronic goods and home appliances are projected to chalk up the largest benefits from the pact.

Peru's 9% tariffs on imported vehicles will be gone over the next decade as will those on white goods. The 9% tariff on colour televisions will be eliminated as soon as the FTA comes into effect.

For Peru the FTA ensures the legal framework to advance fisheries, agriculture and forestry exports. Peru exports are mostly copper, zinc, lead, iron and concentrates besides molluscs, frozen squid, fish meal, coffee and textiles of different types of very fine wool and other natural fibres. Peruvian sales to Korea totalled 750 million USD in 2009 and purchases, 600 million USD. The South American country is also en route to become a significant natural gas and oil exporter.

FTA negotiations were begun in March 2009 and demanded five full rounds and two mini-rounds in which market access, rules of origin, cooperation, in transit issues were discussed and agreed.

"The Korea-Peru FTA will offer a sharpened competitive edge to Korean carmakers or producers of electronics goods'' said an official from the Korea International Trade Agency.

"In particular, it bodes well for Korea because it concluded the FTA with Peru ahead of its rival Japan, which is now in talks with Peru. We will be able to enjoy first-mover advantage" particularly regarding Peruvian abundant natural resources such as gold, zinc, tin and copper", added the Korean official.

This is the eighth FTA struck by Korea since the nation agreed its first with Chile in 2004. Currently, a total of five FTA are running including those with ASEAN countries, India and Singapore.

It has also reached agreements with the United States and the European Union. When all the pacts are validated, more than a third of the Korea's trade will be carried out with FTA partners.

Korea is also involved in free trade negotiations with several other countries including Turkey and Colombia.