S&P raises Uruguay's long term credit ratings to BB from BB-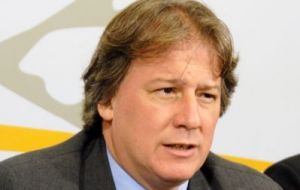 Standard & Poor's Ratings Services raised its long-term foreign and local currency sovereign credit ratings on Uruguay to BB from BB- with a stable outlook thanks to the country's track record of sustained economic growth.

"The upgrade on Uruguay reflects our assessment that prudent macroeconomic management in a context of sustained economic growth will continue to reduce Uruguay's still-remaining credit vulnerabilities over the medium term" S&P credit analyst Sebastian Briozzo said in a report.

S&P also affirmed Uruguay's 2 recovery rating and lifted its rating on the country's foreign currency-denominated senior unsecured bonds to BB+ from BB.

The stable outlook reflects S&P expectation that the continuation of prudent macroeconomic policies under the administration of President Jose Mujica will balance the risks from a relatively high government debt and an elevated level of dollarization in the economy.

"We expect prudent macroeconomic policy mix combined with an ongoing reform agenda to continue under President Mujica and Minister of Finance Lorenzo," Briozzo wrote.

Uruguay's gross domestic product is expected to expand 6.5% this year, after growing 2.9% in 2009. S&P sees the country's GDP growing between 4% and 4.5% in the medium term, with upside to that forecast if several large investment projects currently in the pipeline take place.

S&P said the country's sovereign rating could benefit in the future from greater levels of investments that boost growth prospects and from the development of a local-currency domestic capital market.