First Iranian ambassador presents credentials to Bolivian President Morales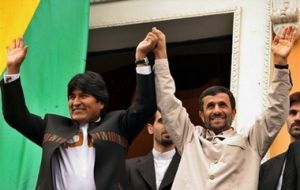 Iran began to make effective closer diplomatic ties with Bolivia with the presentation of its first ever ambassador in La Paz, while President Evo Morales is anticipated to visit Teheran at the end of the month.
At a ceremony in Government House, Palacio Quemado, specially prepared for the occasion Ambassador Alizera Ghezli presented his credentials to President Morales. The Iranian embassy in La Paz was opened in 2008 but until now was headed by a Chargé Des Affairs Masoud Edrisi.
Iran and Bolivia, with the auspices of Venezuela have been moving closer and at the end of last year, President Mahmud Ahamdineyard visited La Paz and President Morales was in Teheran in September 2008.
Last month Iranian Minister of Industry and Mines Ali Akbar Mehravian announced a 250 million US dollars credit for Bolivia to help finance different "social programs".
Iran is interested in developing uranium and lithium deposits in Bolivia while it has promised to support health programs in El Alto, a city next to La Paz, inhabited mostly by indigenous.
In an interview with the Iranian news agency IRNA President Morales called for concerted efforts from Iran, Venezuela and Bolivia to put an end to "the unilateralism dominant in the world".
"People in the world are suffering from the unilateralism of big countries that have filled the markets with their products" Morales said.
"Iran, Venezuela and Bolivia should share their expertise and attempt to make the optimum use of their natural resources to promote the welfare of their nations" IRNA quoted Morales.
He added that "world super powers loot natural resources of other countries and sell the products made from them with much higher prices to those same countries" he underlined.