A rare copy of "Birds of America" to be auctioned could raise 15 million USD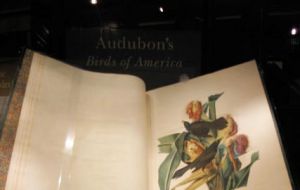 Ten years ago, a copy of painter and naturalist John James Audubon's Birds of America was sold by Christie's for £5.7m (8.8 million USD). On 7 December this year, another copy of the book will be auctioned by Sotheby's, along with other rare and valuable books, letters and manuscripts.
They come from the collection of Frederick Fermor-Hesketh, 2nd Baron Hesketh, who died 55 years ago.
There are only 119 known copies of Birds of America, and less than a dozen of them are privately owned.
The book contains scientific descriptions and hand-colored prints of birds of the United States. It is bound on a huge scale because Audubon wanted to paint the birds' life size.
Birds of America is regarded as the greatest picture book ever produced.
This copy in particular is valued at £4 million (6 million) to £6 million (9.2 million).
Also part of the collection are Shakespeare's First Folio, which contains 36 of his plays and is worth £1m (1.5m) to £1.5 (2.3m); Elizabethan letters addressed to Ralph Sadler, asking him to take over Lord Shrewsbury as jailor of Mary Queen of Scots; and drawings from Pierre-Joseph Redouté.
The auction is expected to raise £8m (12.3 million USD) to £10 million (15.4 million).