Brazil's Real at its highest in eight months; government promises a cap
Friday, September 10th 2010 - 04:39 UTC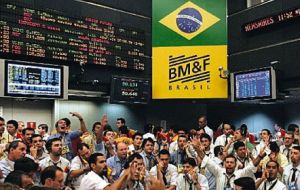 Brazilian Finance Minister Guido Mantega said the government won't allow the Real to strengthen excessively as the currency reached its strongest in eight months.
"We will take the necessary measure to avoid inappropriate gains" Mantega said on Thursday in a speech in Recife, the capital of the northeastern state of Pernambuco. "We won't allow the strengthening of the Brazilian currency."
The central bank held on Thursday two dollar-purchase auctions in a bid to stem the rally. The currency, which advanced 0.4%, is appreciating on speculation that stock offerings and overseas bond sales will boost dollar inflows this year. A share sale planned this month by Petrobras, the state oil company, is set to be the world's biggest.
Mantega's threats to intervene in the currency market aren't enough to persuade traders that the real won't strengthen, said Diego Donadio, a Latin America strategist at BNP Paribas in Sao Paulo.
"At this point in the game, talking won't be as effective as it had been a while ago" Donadio said. "With the dollar flow that is in the pipeline, it won't be possible to contain the currency appreciation without taking real measures".
Mantega said banks' bets against the dollar totaled 13 billion USD in the futures market. The Real has gained 4.9% in the past three months and closed Thursday at 1.7203 per U.S. dollar.