Falklands' first local television station ready to begin broadcasting
Friday, September 10th 2010 - 04:21 UTC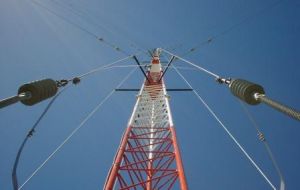 The Falkland Islands first local television station will soon be broadcasting to the Islands. KTV and Stanley Services Limited have announced the creation of a new Company called Falkland Islands Television Limited (FITV) which will broadcast locally produced news programs.
The new Company which is equally owned by both parties plans to commence broadcasting later in the year using KTV distribution platform.
The aim of the new TV Station will initially be to provide locally produced news programs two to three times a week concentrating on local issues. The company will be staffed by local people who will undergo the relevant training.
Mario and Sharon Bulic Zuvic owners of KTV said they "…are very excited by the creation of a local TV station producing local news and other programs by local people for the local community".
Tom Swales Managing Director of Stanley Services Limited commented "SSL are very pleased to be involved in the creation of a completely new Company offering a brand new service to the Islands. It will be a new sector within local business and will create albeit a small but dynamic industry in the Falkland Islands"
Speaking from Stanley Services Ltd. Financial Director Gary Perrens told Mercopress that the aim was to have staff in place to commence training in early November with the start date for actual broadcasting likely to be before the end of the year. Any training will be carried out in the Islands, "which will enable staff to become familiar with the equipment and effectively have a full dry run before we commence broadcasting. We intend to bring someone down from the UK to carry out the training."
Currently Falkland Islanders receive television broadcasts from both the British Forces station and multiple channels from Mr Zuvic's KTV. The new station will be available to all KTV users.
The station will be based at the Stanley Services office next to the fuel station to the south east side of Stanley.
By Lisa Watson - SeAledPR - Stanley