Gibraltar prepares to celebrate National Day
Friday, September 10th 2010 - 03:17 UTC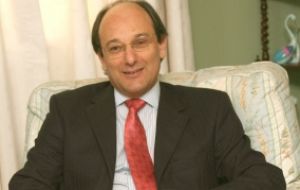 Chief Minister Peter Caruana has highlighted the importance of Gibraltar's National Day, September 10, as a celebration of identity and culture.
In a brief message on the eve of the event Mr Caruana said that the Government wishes everyone in Gibraltar a happy and enjoyable National Day, and expressed the expectation that the many activities, events and amenities available will be well supported.
"On National Day we celebrate our country, our society, our culture, our heritage and our prosperity as a people. We make an important statement about our identity and our aspirations, and we recommit collectively to them as a community through the Gibraltar National Day Declaration read by the Mayor at John Mackintosh Square on behalf of all Gibraltarians, regardless of political persuasion. Enjoy the day with your friends and families," he said.