Goldman Sachs fined 27 million USD in UK for "inadequate disclosure"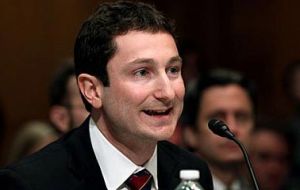 The United Kingdom financial watchdog slapped a 27 million US dollars fine on Goldman Sachs for inadequate disclosure of a US probe into the Wall Street powerhouse.

The fine -one of the biggest ever imposed in Britain- was related to Goldman's troubled Abacus mortgage-security product, which resulted in the investment bank being investigated by the US Securities & Exchange Commission (SEC).

In July, Goldman agreed to pay 550 million USD to settle civil fraud charges over how it marketed the Abacus sub-prime mortgage product, ending months of negotiations that rattled the bank's clients and investors.

The Abacus product was marketed by French banker Fabrice Tourre. Tourre, who had dubbed himself as "Fabulous Fab," denied allegations that he or the bank, had misled investors over the high-risk Abacus product.

Britain's Financial Services Authority said that Goldman had not adequately informed it of the US investigation into the Abacus affair.

"Goldman Sachs International did not set out to hide anything, but its defective systems and controls meant that the level and quality of its communications with the FSA fell far below what we expect of an authorized firm," FSA director Margaret Cole said in a statement.
In a seven-word response to the FSA fine, a Goldman Sachs spokeswoman said: "We're pleased the matter is resolved."

Tourre had marketed the Abacus product back in 2007 -toward the height of a bull market run and just before the onset of the credit crisis which rattled markets and caused a huge slump in the value of many mortgage-related debt products.

The FSA said Goldman Sachs had failed to notify it of the fact that the SEC had issued so-called "Wells Notices" to the bank and to Tourre himself containing allegations of violations of US securities laws relating to the Abacus product.

A Wells Notice is an indication from the SEC staff that they intend to recommend that the SEC should file an enforcement action against the person or entity to whom the notice is addressed.