New York Times going out of print "sometime in the future"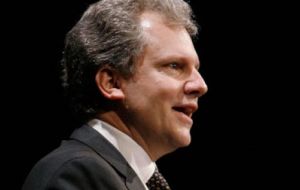 Chairman and publisher of the New York Times Arthur Sulzberger delivered a speech within the framework of a newsroom gathering summit in London and tackled the rumours of the newspaper going out of print by 2015.
"We will stop printing the newspaper sometime in the future," he stated, and assured it would be "at a to-be-determined date."
Sulzberger said he saw no point in making predictions and said all he could say was that the newspaper was to go out of print sometime "in the future."
New measures are on the verge of being implemented early next year, for the New York Times is to include a metered-model pay-wall to its website."
According to Sulzberger, the innovation "has the benefit of allowing our millions of readers who come to us through search engine to still find our content."
Thanks to this move, readers will be allowed to access a certain number of articles free each month and then will be asked to pay. Sulberger also confirmed that the paper will work with Google to implement First Click Free, and stressed that they are seeking "to ensure that NYTimes.com continues to be part of the open web ecosystem".
"Our pursuit of the pay model is a step in the right direction for us," Sulzberger stressed. And concluded: "We believe that serious media organizations must start to collect additional revenue from their readers, for information is less and less yearning to be free."