Paraguay's tourism revenue in 2009 totalled 204 million US dollars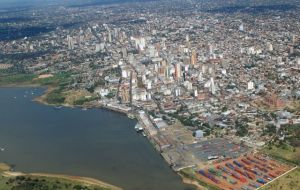 Foreign tourists left an estimated 204 million US dollars in land-locked Paraguay in 2009, according to figures made public by the head of the Tourism Office Liz Cramer, during a seminar held this week at the Central Bank.
Ms Cramer revealed that last year 439.246 tourists arrived in Paraguay spending on average 351 US dollars, which adds to 154 million US dollars, while 2.528.765 (one day) visitors, mostly from neighbouring countries crossed over mainly for shopping.
The average expenditure of a formal visitor was estimated at 48 US dollars, however since a majority of visitors come to Paraguay to take advantage of price differences with neighbouring Brazil and Argentina (and make a living out of it), the estimate for statistical purposes was reduced to 20 US dollars, thus totalling 50.5 million US dollars.
Looking into the future Cramer said that in five years time, and at current growth rates, tourists should be contributing with 518 million US dollars to the Paraguayan economy.
However Ms Cramer said that the sum could be larger since tourism currently only represents 1.2% of Paraguay's GDP which is below the Mercosur average of 5% to 6% of GDP.
"This means that by 2014, we should be receiving an additional 250.000 tourists", said Ms Cramer.
Paraguay's attractions include the capital Asuncion, its unique Spanish colonial heritage, Jesuit missions, the world's largest operational hydroelectric plant and exuberant environment.