Spanish congress approved labour market reforms; protest strike Sept. 29th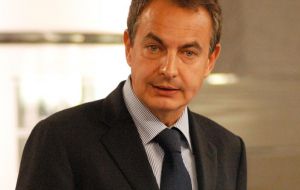 Spain's lawmakers gave their final approval to a package of government-proposed labour market reforms aimed at cutting down the country's high unemployment rate and reviving the economy.
The administration of Socialist Prime Minister Jose Luis Rodriguez Zapatero was also under strong European and international pressure to move forward with the reforms which had been pending long before the Spanish economy collapsed in 2008 following an unsustainable construction and consumer boom.

Thursday's final parliamentary approval of the measure came at the end of a two-month period aimed at giving the lawmakers enough time to make any changes to legislation that was initially approved in June. Thursday's vote was on some changes proposed by the Senate, but most of them were rejected.
The version of the measure approved Thursday has some changes from the initial draft, including several amendments made by the Senate. Spain's cabinet had earlier passed the measure unilaterally in June. The country's lower house of parliament then gave its preliminary approval to the measure the same month.
The government-proposed package of labour market reforms has been in force ever since they received preliminary approval from the lower house of parliament in June as an emergency measure to tackle high unemployment rate and declining economy. With Thursday's approval, they have now become permanent.
The labour reform includes promoting youth employment and cutting the cost of firing workers. They are aimed at encouraging companies in Spain to hire more staff without fearing the otherwise high cost of firing employees. They are also expected to discourage the use of temporary employment contracts that have few benefits and rights.
Earlier, PM Rodriguez Zapatero defended the proposed reforms, claiming that they "maintain the rights of the workers and match the expectations of those workers who have precarious jobs".
Despite final parliamentary approval Spain's two major workers unions, namely the UGT and CCOO unions, have called a 24-hour general strike on 29th September to protest against the reforms and budget cuts planned by the country's government.
UGT and CCOO unions jointly have almost two million workers as their members. The general strike is to protest against the government-planned budget cuts and labour market reforms, which they believe would make it easier and cheaper to fire workers and raise the legal retirement age.
Spain had entered recession in the second quarter of 2008, amidst the global financial meltdown and the property market crisis. Though Spain managed to timidly move out of recession in the first quarter, the country's unemployment rate remains at 20%, which is almost twice the Euro-zone average, and youth lack of jobs extends to almost 50%.