Public debate erupts in UK over the building of two (one?) air carriers
Sunday, September 12th 2010 - 06:41 UTC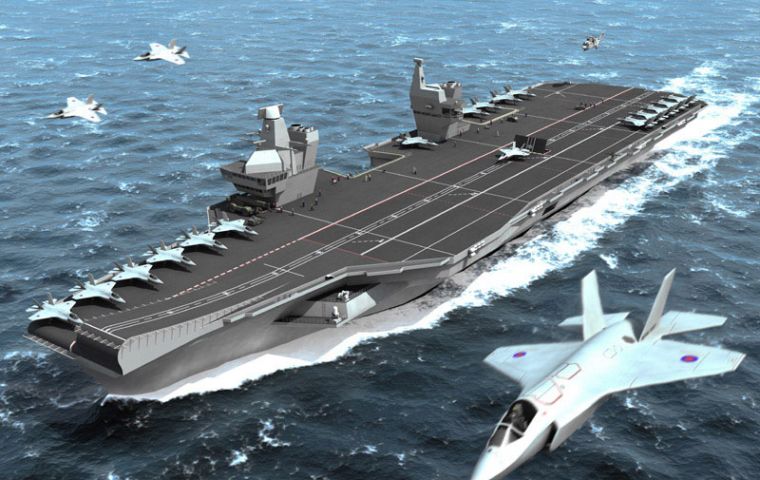 British Ministry of Defence revealed that contracts worth about £1.25bn have been awarded for building two aircraft carriers even though the project may not go ahead, figures have revealed. The figures came in answer to a parliamentary question by a Labour MP.
It emerged on Wednesday that the £5bn project to build HMS Queen Elizabeth and HMS Prince of Wales on the Clyde, at Rosyth in Fife, in Appledore, Devon, and Portsmouth could be under threat.
The Ministry of Defence is under pressure to cut its budget by a fifth.
The figures - which were obtained by Thomas Docherty, Labour MP for Dunfermline and West Fife - show that more than 100 contracts have already been awarded to companies across the UK.
Mr Docherty, who represents the Rosyth dockyard, said: "These figures highlight that the carrier contracts don't just affect thousands of jobs here in Rosyth and on the Clyde or indeed just across Scotland, but in fact across the whole of the United Kingdom.
"To rip up these contracts worth millions at this stage would not only be financial madness, but political suicide and I hope the coalition government sees sense."
Shadow Scottish secretary Jim Murphy, also Labour MP for East Renfrewshire, said cancelling the contracts would not only "sink the prospects of thousands of families across the UK" but result in the loss of technical skills "that are so vital for this country".
"In an uncertain world, we need the flexibility the carriers offer to project our naval and military power around the world," he said.
The new figures were released as Labour's team in Govan launched a petition - organised by MSP candidate Stephen Curran and Ian Davidson, Labour MP for Glasgow South West - calling on the Ministry Of Defence to end speculation around the carriers.
On Wednesday, BAE systems chief executive Sir Ian King told the Defence Select Committee in the Commons the company had been asked to consider a number of options ranging from "one carrier to no carriers".
Deputy First Minister Nicola Sturgeon is due to meet members of the opposition parties in Edinburgh on Sunday to discuss a joint submission to the UK Strategic Defence and Security Review, to protect defence jobs and skills in Scotland.
First Minister Alex Salmond had written to Labour, the Liberal Democrats and the Conservatives on Friday inviting them to a meeting to make a joint submission.
HMS Queen Elizabeth and HMS Prince of Wales are due to launch in 2016 and 2018 respectively. Defence Secretary Dr Liam Fox is expected to make an announcement about the defence spending review, which is currently under way, at the end of October.