Argentina elected president of G77 and prepared to act as 'bridge" with G 20
Wednesday, September 15th 2010 - 05:49 UTC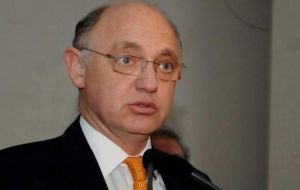 United nations Secretary General Ban Ki-moon congratulated Argentina for having been chosen to preside as of next year the G77 plus China group, anticipating Buenos Aires could act as a "bridge" with the G 20 group to which it also belongs.
The announcement was done during Tuesday's meeting of UN Secretary General with Argentina's Foreign Affairs minister Hector Timerman, ahead of the 65th UN General Assembly. The Argentine official also brought up the issue of the Falklands and South Atlantic islands sovereignty dispute with Britain.
Ban Ki-moon confirmed he would be present at the formal vote at the end of the month when Argentina is officially elected president of the G77 plus China, and which will also be attended by President Cristina Fernandez de Kirchner.
"Argentina is committed to G20 but also to the countries of the political 'south', so we are willing to take the voice of these countries to the G20 event", said Timerman adding that the UN can count with Argentine support in the G20 meeting since "we are wholly committed to multilateralism and the international bodies that make it up".
According to UN and Argentina sources Ban Ki-moon and Timerman went through the agenda of the coming G20 meeting in Seoul, Korea, which includes issues such as technology transfer, climate change, helping to achieve a world with clean and accessible energy for all.
However Timerman pointed out that the bill for the consequences of climate change can't be shared with developing countries, which were not involved in causing the problem, but rather by developed countries "that should supply the funds and technology" to address the task.
Timerman congratulated Ban Ki-moon for having named former president Michelle Bachelet as UN Under Secretary for Gender Equality and the Empowerment of Women and praised the Secretary General initiative to have development issues included in the Seoul G20 meeting agenda.
Ban Ki-moon thanked Argentina for its commitment to humanitarian aid, mainly in Haiti but also in other parts of the world, as well as its support for ensuring nuclear security and the use of nuclear energy for peaceful means.
Argentina, following on a suggestion from US President Obama will host next December a meeting of nuclear security experts.
Finally Timerman said Argentina was grateful to Ban Ki-moon standing efforts for the resumption of sovereignty talks with the United Kingdom on the disputed Falklands, South Georgia and South Sandwich islands and adjoining maritime spaces, "which represent one of the most shameless colonial attitudes of the XXI century".
The minister also said Argentina was much concerned with the "unilateral and illegal hydrocarbons activities" in Falklands' waters and its possible environmental consequences.
G77 currently includes 132 countries, almost two thirds of UN members, all of them considered developing countries plus China. G77 addresses economic and social development issues but has included other topics such as the financial crisis, climate change, humanitarian aid and migration. It also basically promotes south-south cooperation and trade.