Chinese oil company after BP's stake in Argentina's Pan American Energy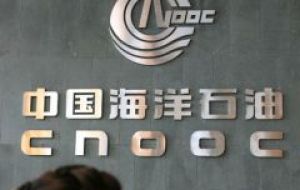 CNOOC, Ltd, China's biggest offshore oil explorer, may bid 10.2 billion USD for BPs 60% stake in Argentina's Pan American Energy LLC and will probably seek a partner in the acquisition, Citigroup Inc. said.
The estimate assumes Cnooc will offer a 10% premium over the value it paid earlier this year for 20% of Pan American because the BP stake would give it control of the company, Citigroup analysts Graham Cunningham and Tushar Bagla said in a report dated earlier this week.
BP needs to complete the sale of as much as 30 billion USD of assets over the next 18 months to start making compensation payments for the largest oil spill in U.S. history earlier this year. Cnooc has spent more than 6 billion USD on acquisitions on three continents over the past four years to help meet oil demand in the world's fastest-growing major economy.
"I don't think that will be easy to do," Chen Weidong, chief energy researcher at parent China National Offshore Oil Corp., said at a forum in Beijing, when asked if Cnooc was interested in BP's stake. Chen said that's his personal view.
Occidental Petroleum, Total SA and Apache Corp., are among companies operating in Argentina that may be interested in partnering with Cnooc to buy the stake in the country's largest oil exporter, according to the Citi analysts.
Cnooc bought 20% of Pan American in March through the acquisition of a 50% stake in Bridas Corp. for 3.1 billion USD, the company's biggest overseas acquisition. The deal marked Cnooc's entry in Latin America and topped the 2.7 billion it paid in 2006 for a share in a Nigerian oilfield.
The Chinese oil explorer said last month that overseas acquisitions will help drive future growth after record output more than doubled profit in the first six months. Crude production outside China increased more than two times to 17 million barrels during the period.
About 69% of Cnooc's revenue comes from oil and gas fields in China, according to the company's annual report. The energy producer's assets outside Latin America include projects in Nigeria, Kenya, Indonesia and Australia.
Pan American is Argentina's second-largest oil producer, behind Repsol-YPF SA, accounting for about 17% of the country's overall crude output.