He had to borrow money for a bus ticket to collect a 2 million USD lottery prize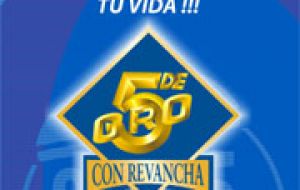 A Uruguay construction worker had to borrow the equivalent of seven US dollars from a neighbour to get to work. It was Thursday morning and several turned up to loan him the requested money.
No wonder: after all word had got around the working class neighbourhood that the man had hit the jack pot of the "Golden Five" Wednesday night with a prize equivalent to two million US dollars.
The chance game was being closely followed by Uruguayans since the jack pot had been elusive for the last few rounds (twice a week) and had steadily grown to reach two million US dollars. Each ticket with a combination of five numbers costs the equivalent of 1.50 US dollars.
The construction worker revealed he has been playing the same set of five chance numbers for years and finally was on target, with the bonus that he was the only winner. Sometimes the prize has to be shared among several winning numbers' combinations.
Wednesday night when the set of winning numbers was announced, it was the wife who realized they had struck the jack pot. The five numbers were: 06, 11, 18, 22 and 28. The wife begun to scream of joy from a window but the husband recommended caution and reserve.
The following morning as every day, at six, his shift begins at seven he realized he didn't have sufficient money for the tickets so he knocked on the neighbours and asked for a seven US dollars loan.
"You can be sure you'll have the money back, and a gift", said the lucky winner. After all sometime during the day he would have a bank account credited with the two million dollars.
As he walked to the bus stop and in spite of the morning cold, several windows opened to look at the new rich neighbour and offer money or whatever he needed: plenty of collateral.