Korea/Argentina sign nuclear cooperation MOU; new light-water plant planned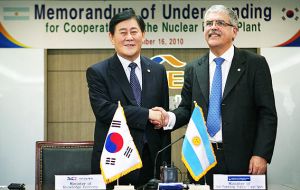 Argentina and South Korea signed on Thursday a memorandum of understanding (MOU) for bilateral collaboration in the nuclear sector. The MOU sets forth that the two nations will discuss concrete cooperation plans to build a new nuclear plant in Argentina and to repair the country's existing heavy water reactors.
The agreement was signed by South Korea's Minister of Knowledge Economy Choi Kyung-hwan and Argentina's Minister of Planning, Public Investment and Services Julio De Vido.
Argentina has two nuclear power plants in operation and another one is expected to be completed next year after its construction was suspended because of financial problems. A new project to build light-water reactors is set to be launched next year.
The MOU sets the stage for Korea Electric Power Corporation and Korea Hydro and Nuclear Power to become involved in Argentina's new nuclear plants and overhauling the country's Embalse Nuclear Power Station.
A technical team from Nucleoelectria Argentina and the National Atomic Energy Commission will travel to Korea to negotiate details.
Argentina is believed to be interested in Korea's Optimized Power Reactor (OPR) 1000 model for its new nuclear plant project that will be launched in the first half of next year.
"The new order for our nuclear plant will be subject to competitive bidding," said de Vido. "Korea will have to compete with companies from the United States, France, Russia and China."
Seoul is interested in entering the atomic energy market in Latin America and Argentina could be the stepping stone to open opportunities.
Earlier this week, Vido discussed details on the nuclear plant projects with executives at Korea Electric Power Corp. and Korea Hydro & Nuclear Power Co., Ltd., a KEPCO official said.
The minister is visiting the construction sites of new Gori nuclear power plants in the southern part of the country, he added.
Argentina launched its nuclear energy program three years ago aiming to raise the portion of nuclear power to 15% of the total energy consumption by 2025 from 6% currently.
Rapid growth of the Latin America's third-largest economy has increased energy demand since 2003. The state imposed caps to keep energy rates low, which discouraged private investment and eventually shrank crude oil and natural gas reserves, which account for about 60% of the total electrical power now.
Argentina's fuel imports rose 69% between January and July from the same period of 2009, totalling 2.75 billion USD, according to the government data. It is expected to import 14 cargoes of liquefied natural gas this year to beef up supplies.
Korea runs 20 nuclear reactors. Its first nuclear reactor in Gori, South Gyeongsang Province, began operation in 1972. Atomic power accounts for nearly 40% of the country's total electricity supply, according to the government. The plants have not had any major accident for the past 30 years.
Korea has emerged as a new leader in nuclear power plant construction over the past couple of years. The country won a 40 billion USD nuclear power contract with the United Arab Emirates in December, becoming the world's sixth exporter of nuclear power facilities after the U.S., France, Canada, Russia and Japan. It was the first nuclear plant in a foreign country.
Nuclear power emerged worldwide a competitive source over the past few decades.
Today there are about 440 reactors operated in 30 countries with a combined capacity of more than 376 gigawatt electricity, according to the London-based World Nuclear Association.
Currently, some 58 power reactors are being constructed in 14 countries including Korea, China and Russia, the organization reported.