Successful testing of ninth out of ten oil-wells in extreme south of Chile
Friday, September 17th 2010 - 06:39 UTC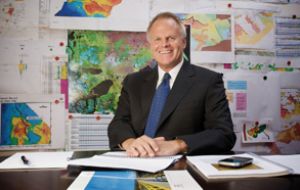 Latin American oil and gas firm GeoPark Holdings Ltd said on Thursday it successfully drilled and tested a new well in the Guanaco oil field on the Fell Block in the extreme south of Chile.
GeoPark drilled and completed the Guanaco 4 well to a total depth of 2,760 metres, it said in a statement. The company said a production test at the site flowed at about 1,660 barrels of oil per day (bpd).
The oil and gas explorer, which has operations in Argentina and Chile, currently operates and has a 100% working interest in the Fell Block. In March, GeoPark drilled a separate well successfully in the same prospect.
According to a release from the company following the drilling of this well and preliminary interpretation of available seismic, the Guanaco field structure appears to have an area of approximately 6 square kilometres (sq km), suggesting a preliminary 2P reserve estimate (internal) of approximately 2.8 million barrels of oil with multiple drilling opportunities.
The Guanaco field is located in the south central area of the Fell Block and the new 3D seismic survey conducted during 2010 indicates possible additional structuring and resources in an up-dip position to the south.
The Guanaco 5 well is programmed to be drilled during 4Q10. The new 3D seismic survey currently being interpreted also suggests an attractive prospect, Municion, to the east.
The Guanaco 4 well represents the ninth successful well drilled by GeoPark in 2010 out of ten wells drilled, completed and tested. Testing and further operations will now be carried out on the Yagan Norte 2, Ayelen 2 and Alakaluf 9 wells during 3Q10 and 4Q10.
"We are pleased with this new drilling result from the Guanaco field which has an attractive development potential to increase crude oil production and which opens up the south-central area on the Fell Block to further new exploration. This well also maintains the consistent record of drilling success by our technical team over the last three year and confirms our belief in being able to continue to find and develop oil and gas reserves in the Magellan basin in southern Chile, where GeoPark is investing US$50-60 million this year" said James F. Park GeoPark CEO.
GeoPark's shares were up 4 percent at 585 pence at 0735 GMT on the London Stock Exchange. The stock has doubled in value over the past one year as the company announced a string of drilling successes.