Uruguay's "life quality" tourism attracted 1.5 million in eight months
Friday, September 17th 2010 - 03:45 UTC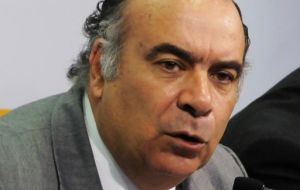 The numbers of tourists arriving in Uruguay during the first eight months of 2010, compared to the same period a year ago, increased 13% and revenue jumped 20.2% according to the latest figures released Thursday by the Ministry of Tourism Hector Lescano.
The total number of tourists in the period was 1.512,585, with an average stay of 7.3 days and expenditure estimated in 1.017 billion US dollars. In 2009, tourists in the eight month period totalled 1.336.517 (8 days average stay) and 847 million USD.
During a conference on the Ministry's policies, and with the support of his closest aides, Lescano said that the "good performance and planning" of Uruguay's tourism industry since 2005 has attracted the attention of the World Tourism Organization, WTO, which will make a "case study" of the country's evolution.
This is because although last year overall global tourism trade contracted 4%, in Uruguay the industry kept its steady growth.
"I tend to say in some conferences that Uruguay's numbers and coverage in tourism are doing well", said Minister Lescano who underlined that back in 2005, Uruguay's gross income from receptive tourism totalled 600 million US dollars and in 2009, according to Central Bank stats reached 1.3 billion US dollars. Last year Uruguay's total services exports were 2.2 billion US dollars which means tourism contributed with 60% of that total.
Lescano also pointed out that net tourism income in 2009 was almost a billion US dollars, virtually trebling the 2005 figure, 342 million USD. (Net tourism is described as the result of subtracting Uruguayan tourists' expenses overseas from gross receptive income).
Aides present at the conference included Deputy minister Lilian Kechichian, Director General of the Ministry, Antonio Carámbula, Tourism advisor Benjamin Liberoff and the National Director of the Sports Department. In Uruguay the ministry of Tourism also has responsibility over Sports.
The conference also addressed the Ministry's goals for 2015 which includes attracting 2.6 million tourists, with a total revenue of 1.8 billion US dollars and definitively establishing 'Uruguay Natural' (organic) as a recognized international "quality of life" brand, taking advantage of the uncontaminated environment, unique wildlife, fabulous string of beaches and rolling plains with mostly organic crops and natural pasture fed livestock plus the low demographic density of the country.
Other advantages of tourist-friendly Uruguay are that it promotes foreigners to reside or retire in the country, set up a business, an organization or hold conventions, as well as the academic and language opportunities for exchange program students.
The 2.6 million goal is made up of 1.4 million and 475.000 tourists from neighbouring Argentina and Brazil respectively; 150.000 Europeans; 100.000 North Americans; 65.000 Chileans; 50.000 Paraguayans; 100.000 from the rest of South America and Uruguayans living overseas.
Lescano underlined that tourist and income growth in 2009 clearly indicates that Uruguay was immune to the world slowdown which begun at the end of 2008. In 2008 tourism net income was 873 million USD and 976 million last year.
He also recalled that the ministry continues to work (and with positive response) for the long term objective of hosting, together with Argentina, the Soccer World Cup in 2030, the centennial anniversary of the first Jules Rimet Cup played precisely in Montevideo, with Uruguay defeating Argentina 4-2 in the final.
A more immediate task is preparing Uruguay for when neighbouring Brazil hosts the World Cup in 2014 and the Olympic Games in 2016.
"We can expect an interesting spill-over effect", said Lescano.
A special chapter of the conference was dedicated to the cruise industry, which although one-day visitors and with a much lesser turnover than traditional tourism, helps to put Uruguay in the world tourism map and gives life to many temporary jobs and summer activities.
According to the figures given by Lescano, the number of visitors that actually landed during the 2009/10 season totalled 292.048, split up between 112.790 in Montevideo and 179.258 in Punta del Este, Uruguay's renowned sea side resort. This compares favourably with the 247.120 visitors of 2008/09 and definitively signals a big stride from the 110.827 of 2005/2006.
Regarding revenue the 2009/2010 season left 17.8 million US dollars with cruise visitors spending an average 61 US dollars per capita. In 2008/2009 the figure was 14.4 million US dollars, while in 2005/06 revenue was 4.25 million USD.
"Cruise tourism growth prospects are good but these are closely linked to infrastructure improvement, better services and preparing guides to cater visitors", said Lescano underlining that the cruise industry "is a post card of Uruguay, a tremendous promotion instrument".
The matter is being coordinated at Mercosur highest level "to ensure the industry can effectively consolidate and keep growing". He added some polls have confirmed that cruise visitors have returned to Uruguay "as tourists and even as investors".
Finally Lescano revealed that the Ministry, according to the budget currently under discussion in Parliament, will have approximately 7 million US dollars for promoting tourism overseas.