Uruguay could recognize Palestine next year; confirms solid ties with Iran
Saturday, September 18th 2010 - 09:44 UTC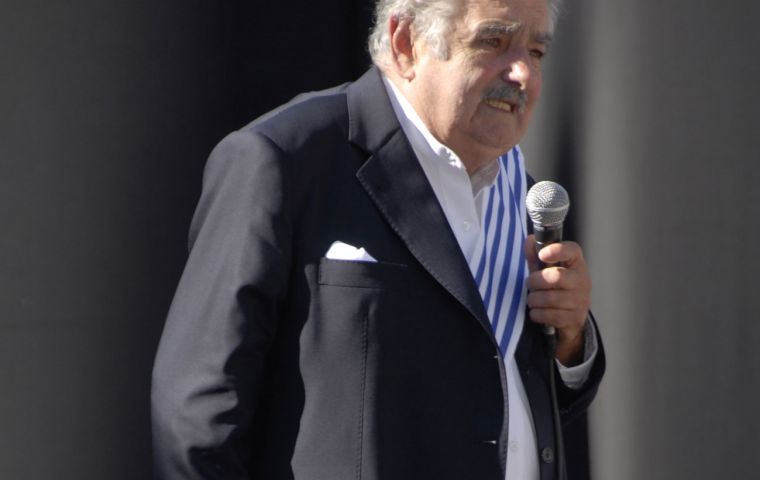 Uruguay's president Jose Mujica said that 'most probably' next year his government would be recognizing Palestine and will continue to have "solid" relations with Iran, because it is in "the interest of the country".
Mujica in his daily radio program also explained why he recently met with a delegation of dissident Cubans visiting Uruguay in spite of the fact that the coalition that supports him has been clearly identified with the Fidel Castro revolution from its very inception in 1960.
"We are always going to try to have the best possible relations with Israel, with the United States and with all the countries we can", said the Uruguayan president who added that is why "most probably next year Uruguay will recognize Palestine and we will continue to have solid relations with Iran".
Uruguay has strong ties with Israel going back to 1948 when it voted for the creation of the state of Israel.
Iran for almost three decades now has been a strong trade partner of Uruguay purchasing rice, wool, beef, lamb, among other products in exchange for oil.
"In the big international conflicts Uruguay has no influence, no weight, but when it comes to a vote we will always be very clear as to where we stand and belong: a clear sense of solidarity and defence of the weakest, all over the world", emphasized Mujica.
The president also replied to criticism from the Communist party, a member of the ruling coalition and close ally of his own party Movement of Popular Participation, MPP.
"Very important leaders from the elected opposition approached me and asked for the Cuban delegation that is confronted with the island's government, to be received by the Executive".
"Out of respect for those who did the request we received the delegation. Institutionally a Uruguayan president when elected, is the president of all Uruguayans", emphasized Mujica.
He added that sometimes the president "has to do things which do not coincide with his way of thinking, but the president must comply and to them because above him is the nation".
The Cuban delegation was made up of twelve former political prisoners.
Mujica described the meeting with Cuban dissidents as an example of "amplitude and tolerance", in spite of a long history which "has seen me in support of the Cuban revolution and its struggle against the United States".
President Mujica, 74, is a former guerrilla leader which spent over a decade in jail under harsh conditions during the military regime that ruled Uruguay from 1973 to 1985. Twenty four years later he was elected president with a clear majority in the Legislative.