Carrier pigeon beats broadband in race to highlight poor rural web service
Monday, September 20th 2010 - 02:36 UTC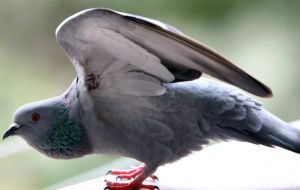 For some residents of rural East Yorkshire in England it is quicker to send a message by carrier pigeon than rely on broadband internet – and that's official.
Campaigners for quicker and improved internet connections in the countryside turned to traditional methods to get their message across.
A computer file upload raced the pigeon, carrying the same information on a memory card, between Beverley and Wrangle in Lincolnshire. When the bird arrived after a 75-minute flight, the upload was just 30% complete.
In total, the video took more than five hours to upload on the YouTube website.
Trefor Davies, chief technology officer for Newark-based communications provider Timico, organized the stunt.
He said: "For lots of residents in the UK, broadband connection is no different to problems suffered by people in the Outback of Australia and vast areas in jungle in South Africa.
"This test shows it's still quicker to use carrier pigeons in the UK than broadband in some areas. We haven't moved on.
"The Government has said it would cost £29 billion to improve the connection in the UK, £25 billion of which is to just dig up the roads.
"There are some projects where communities are helping themselves by digging trenches for the fiber cables."
The file carried by the pigeon and uploaded was a 200mb video of Mr Davies having his hair cut. "I wanted something representative of an everyday event and 200mb is about a similar size to downloading Open Office", he said.
"Michelle Brumfield, from a farm near Beverley, put the video on her PC and uploaded it to YouTube.
"At the same time, the video was put on a memory card and attached to the pigeon and sent to the Boston area."
Organisers said slow internet connections were holding back rural areas and appealed for government help.
A BT spokeswoman said they have plans to invest up to £2.5 billion in super-fast broadband, which could become available to about two-thirds of UK premises by 2015, assuming an acceptable environment for investment.
She said: "In Yorkshire and the Humber, we have already placed faster speeds of up to 20Mb/s within reach of around half of the region's homes and businesses using the existing copper network".