China rejects pressure to appreciate Yuan; US lobbying G20 ahead of summit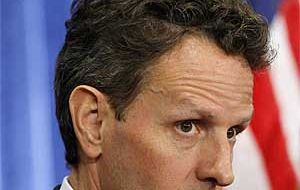 An advisor to China's central bank has rebuffed criticism from the US over Beijing's exchange rate policy. In a speech in Beijing, Li Daokui said China "will not appreciate the Yuan solely because of external pressure".
His comments follow strong criticism in the US that the Yuan is significantly undervalued, damaging US exports. Last week the Treasury Secretary, Timothy Geithner, said he was considering ways to press China to let the Yuan appreciate.
In June, after months of pressure from the US, China pledged to relax its grip on its currency. But on Thursday Mr Geithner renewed the criticism, saying that the Yuan's value was "essentially" unchanged because of "very substantial" intervention by authorities.
China denies keeping its currency artificially cheap, and has warned against foreign pressure over what Beijing regards as an internal matter.
Mr Li said: "China as it stands now is not Japan in 1985: it is not a country that completely relies on external demand."
That was a reference to a 1985 accord where Japan agreed to let its yen currency appreciate against the dollar.
US manufacturers in particular have pressed President Barack Obama to do something, as a low Yuan benefits Chinese exports and is a barrier to imports.
Since June the Yuan has appreciated about 1.6% against the dollar and gained about 0.7% last week.
On Thursday Mr Geithner told a key committee of senators that he was examining what mix of tools would encourage China to let the Yuan appreciate more quickly.
Mr Geithner said he would try to bring in other world powers to push China for trade and currency reforms, saying the US would use a G20 summit in Seoul in November to try to mobilise trading partners to get Beijing to let the Yuan strengthen faster.
He said: "We are concerned, as are many of China's trading partners, that the pace of appreciation has been too slow and the extent of appreciation too limited.
US Congress is pressuring the Obama administration to take a tougher stand with China over its trade practices. Some members of the committee have called China a currency manipulator.
Senator Richard Shelby, the committee's most senior Republican, said, "There is no question that China manipulates its currency in order to subsidize its exports. The only question is: Why is the administration protecting China by refusing to designate it as a currency manipulator?