Uruguay bans docking permit to Royal Navy vessel heading for the Falklands
Tuesday, September 21st 2010 - 01:19 UTC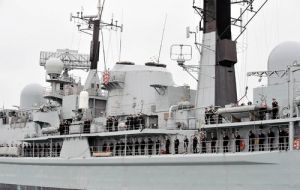 HMS Gloucester, the Royal Navy South Atlantic patrol was banned from entering Montevideo for supplies and fuel, just a few hours before docking and in spite of having been authorized several days before to call in at Uruguay's capital port.
According to the Uruguayan press, the Type 42 destroyer HMS Gloucester D-97 which had spent time in Brazil was heading for the disputed UK/Argentina Falklands/Malvinas Islands and was denied access a few hours before reaching Montevideo.
The decision is seen as a solidarity gesture towards the government of Argentine President Cristina Kirchner with which Uruguay has several pending issues and is trying to improve relations following years of confrontation over the construction of pulp mills in shared water courses.
Since President Jose Mujica took office last March he has managed to solve the pulp mills dispute (dating back to 2006) but still has other bilateral issues to address such as the dredging of River Plate canals to Uruguayan ports, which must be done jointly under standing treaties but interests in the port of Buenos Aires do not approve.
The Kirchner couple administrations have increasingly tried by all means –including illegal-- to isolate the Falklands/Malvinas islands, the latest of which decree 256 that forces all vessels travelling to or from the Islands, through Argentine waters, to inform and request from the Argentine Coast Guard prior authorization.
The official version of the HMS Gloucester incident published in the pro-government newspaper La Republica is that the British request was presented Monday a week ago to the Uruguayan Navy, Foreign Affairs and Defence ministries and finally denied although its was not a unanimous decision.
A similar incident happened in December 2007 with HMS Nottingham, also heading for the Falklands. On that occasion there was a specific request from then Argentine Foreign Affairs minister Jorge Taiana to deny access to Montevideo to the Royal Navy South Atlantic patrol, which apparently did not happen with HMS Gloucester.
However Brigadier General Geronimo Cardozo, head of the Ministry of Defence International Relations downplayed the incident and said it was a "routine case", and he communicated the decision to the Uruguayan Navy commander Rear Admiral Alberto Caramés.
Mercopress UK defence and Falklands' sources point out that the sequence of events was different to that published in Montevideo, but do not wish to be involved in "an non conductive argument".
Back in 2006 Argentina had officially asked its neighbours not to facilitate port or air terminal facilities to British military vessels or planes contributing to sustain the "illegal occupation of the disputed territories in the South Atlantic".
In spite of the request Royal Navy relations with the Brazilian and Chilean navies are extremely close and cordial. Furthermore even when the Royal Navy and RAF have for years now avoided Montevideo, contrary to what happened before, they do call in at Brazilian and Chilean ports when travelling to or returning from patrol duties in the South Atlantic which includes the Falkland Islands.