Argentine main business sectors reject unions' supervised profit-sharing bill
Thursday, September 23rd 2010 - 04:04 UTC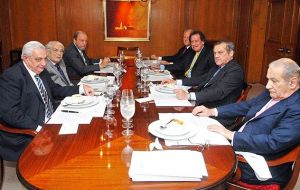 Argentina leading business associations representing agriculture, industry, banking and construction sectors rejected point blank the bill out lined by a Kirchnerite lawmaker for the distribution of company profits among workers and employees.
Leaders from the so-called Group of Seven business entities agreed that the bill "clashes" with "property rights" and added that current legislation to debate salary agreements between employers and employees is legitimate.
The group met at the seat of the Association of Argentine capital banks and argued that the bill, accepted and sponsored by Argentina's powerful CGT unions, grants unions more say and power than shareholders of the companies.
The bill basically proposes that companies must redistribute 10% of their earnings which are not re-invested among its work force.
After the meeting and through a press release, the businessmen expressed "their greatest concern which such a far-reaching initiative that was drafted with no consultation with the business sector, at a time when the country needs a strong increase in investments in order to generate more employment and more development."
The Group of Seven underlined that for such an initiative the International Labour Organization calls for a tripartite consultation process (government, workers and employers) and this commitment in Argentina has "constitutional rank" and is an "indispensable tool to solve issues such as the one presented".
Besides, the bill grants unions an interference power that collides with the constitutional principles of private property and of any established licit industry, since unions will be entitled to monitor company finances and access commercially confidential information, "well above that enjoyed by shareholders".
The release also refers to the current inflationary context in Argentina, "which given the impossibility to adjust balance sheets to inflation, generates a strong distortion in corporate results".
Finally Argentine Bussiness sectors argue that through collective bargaining the income of workers in the registered formal sector of the economy has in the last few years, increased far beyond real inflation, "with Argentine salaries in US dollars well above those in the region and in countries with our products must compete".
Besides the Banks association, the other groupings included the Chamber of Commerce, Construction Chamber, Argentine Rural Society, Buenos Aires Stock Exchange and the Argentine Industrial Union.