Cuba props foreign investment projects and fires basic industry minister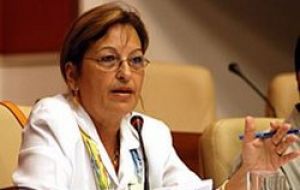 President Raul Castro sacked his energy and resources minister, the last remaining minister from his brother Fidel cabinet. Minister for basic industry, Yadira Garcia, was fired late Sunday for "shortcomings," specifically exerting "weak control over resources set aside for investment and production," an official declaration read on state television said.
The basic industry ministry is responsible for electricity, oil, nickel, rubber and medicine production. Garcia, a member of the political bureau of Cuba's ruling Communist Party, was named to the portfolio in 2004 after her predecessor was sacked following a domestic energy crisis.
Garcia's deputy, Tomas Benitez, will head the ministry until a successor is named.
Since taking over the presidency from his ailing brother in 2008, Raul Castro has embarked on a number of changes that have rolled back Fidel Castro's communist revolution.
He has replaced or reshuffled more than a dozen members of government, notably ejecting vice president Carlos Lage and foreign minister Felipe Perez Roque, both accused of harbouring unacceptable ambitions to take power.
Other Fidel-era appointees who lost posts or decision-making power include those in charge of the ministries for the economy, agriculture, sugar, communications, transport, trade, commerce, finance, construction, food industry, light industry, steelmaking industry, science and technology, and the head of the central bank.
The Ministry for Basic Industry concentrates most foreign capital investments with exploitations projects for oil with corporations from at least ten different countries including Brazil, Venezuela, Canada, China and Russia.
Ms García was considered a vital link in relations with Venezuela, Cuba's main economic, political and trade associate. With Venezuela she managed the main refinery in Cuba and the construction of a petrochemical pole, among other multi-million projects involving the two countries.
The Cuban oil industry is preparing to drill with foreign partners in the Gulf of Mexico next year and in partnership with Venezuela is developing its refining and other oil related infrastructure.
Unrefined nickel is Cuba's most important export at around 70,000 tons per year and a joint venture with Venezuela plans to add 60,000 tons of ferronickel by 2013.