Obama promises to revamp US foreign policy; helping poor countries is "national interest"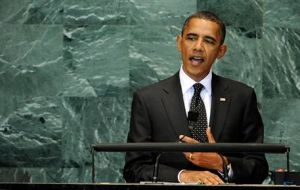 President Barack Obama has told the UN a revamped US foreign aid policy will help lift nations out of poverty by focusing on good governance and encouraging trade and investment.
Mr Obama told the UN summit in New York on the Millennium Development Goals that the focus should be on development, not dependence. But he insisted helping poor nations was in the US national interest.
He said the US would do its part to help lift millions out of poverty. But with five years left to reach the Millennium Development Goals (MDG), Mr Obama said the world "must do better".
The eight MDGs were adopted in 2000, and include improving health care, increasing access to education and promoting equal rights for women.
"If the international community just keeps doing the same things the same way, we will miss many development goals," Mr Obama said.
He said it was in the US and other rich nations', interests to help the world's poorer countries, despite the economic downturn.
"In our global economy, progress in even the poorest countries can advance the prosperity and security of people far beyond their borders, including my fellow Americans."
He said: "When millions of fathers cannot provide for their families, it feeds the despair that can fuel instability and violent extremism."
He announced a new focus in US aid on moving beyond providing assistance to offering "nations and peoples a path out of poverty".
This would be done by working with co-operative nations to develop their economies over the long term. Countries that were willing to create attractive environments for investment and trade would be helped, Mr Obama said.
He also said democracy and good governance would be encouraged and corruption fought. "We know that countries are more likely to prosper when governments are accountable to their people. So we are leading a global effort to combat corruption.
"We will reach out to countries making the transition from authoritarianism to democracy, and from war to peace. The people of Liberia show that even after years of war, great progress can be achieved," Mr Obama added.
BBC diplomatic correspondent Jonathan Marcus says this was a restrained, even humble speech, suggesting an America that wants to listen to others whilst still willing to lead on the global stage.
Earlier, UK Deputy PM Nick Clegg confirmed that the UK was committed to increasing the money it gave in overseas aid, and called on other rich nations to follow its lead.
Mr Clegg told the UN that the UK would raise its spending on aid from 0.5% of annual economic output to 0.7% from 2013.
Earlier in the day the UN launched a 40 billion US dollars health initiative aimed at saving the lives of 16 million women and children over the next five years.
Announcing the Global Strategy for Women's and Children's Health, UN Secretary General Ban Ki-moon said women and children "play a crucial role in development".