Brazil's oil prospects break all records of share placing: 70 billion US dollars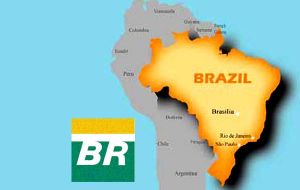 Brazil's government managed oil and gas company raised 70 billion US in the world's biggest-ever share offering Thursday. The success of Petrobras issue showed the extent of investor interest in Brazil's massive offshore oil reserves, one of the world's fastest-growing regions for energy production.
Petrobras sold more than four billion common and preferred shares in Brazil and the U.S. The money will fund the company's ambitious 224 billion US dollars five-year plan to develop its find.
Those fields lie at least 180 kilometers off the southeast coast of Brazil, close to two kilometers under the ocean's surface and another four kilometers below the sea floor.
Petrobras made the find more than two years ago. It's believed to hold more than 50 billion barrels of recoverable oil.
Petrobras forecasts that by 2014 it will produce the energy equivalent of 3.9 billion barrels of oil per day when natural gas output is included. That's equal to what Exxon Mobil Corp., the world's largest publicly traded oil and gas company produces today.
The increase in market value, to about $220 billion US, already moves Petrobras past Royal Dutch Shell PLC and Chevron into second place behind Exxon's 311.36 billion US dollars.
The sale amounted to about 18% of the value of all equity offerings completed in 2010, and exceeded by three times the record initial public offering of 22.1 billion USD by Agricultural Bank of China in July.
Nippon Telecom and Telegraph's 1987 share offering that brought in 36.7 billion US had been the largest on record.
After Petrobras share offer Brazil's federal government boosted its total stake in the company to about 48% from 40% after the company's share offer, according to Finance Minister Guido Mantega.
As a direct consequence of the placing Brazil's currency, Real rose for a sixth week, the longest winning streak in 11 months.
The Real advanced 0.6% to 1.7109 per dollar. The currency rallied for seven consecutive weeks in the period ended Oct. 16, 2009, prompting the government to impose taxes on foreigners in stocks and bonds.