Falklands Desire raises an extra £ 22.8 million for further oil seismic surveying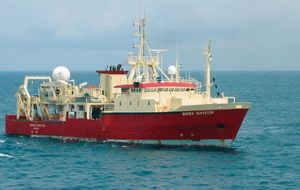 Desire Petroleum (AIM:DES), one of the Falkland Islands oil exploration companies announced Friday it had successfully placed 16,294,600 shares at 140 pence each raising £22.8 million before expenses.
According to the company's release the funds will be predominantly used to acquire and process further 3D seismic over the Desire acreage on the east flank of the North Falkland Basin, NFB, in Tranches D and F.
Following the Sea Lion oil discovery by Rockhopper Exploration, Desire has concentrated on identifying prospects in the same play type as Sea Lion and has outlined a fan sandstone play fairway in the eastern flank.
These fan sandstones can only be fully identified on 3D data and currently Desire has 3D coverage over only half of this fairway on its acreage.
"Desire believes that it is essential that it acquires and processes new 3D seismic data as quickly as possible in order to fully understand the potential of this play".
Tenders for a 3D seismic survey have been received and Desire intends to award a contract for the acquisition and processing of the survey in the near future. In addition, discussions are underway with other NFB oil operators regarding a joint seismic program that could go some way to mitigate the significant cost of the mobilisation/demobilisation of a seismic vessel to Falkland waters.
The Board of Desire currently expects that the seismic programme will begin in December 2010.
Now that Rockhopper has concluded the successful flow test on the Sea Lion discovery, the Ocean Guardian drilling rig will revert to Desire to drill a number of its prospects the first of which will be drilling the Rachel prospect.