Technical constraints limit Falklands' oil well flow test to 2.000 bopd
Saturday, September 25th 2010 - 03:05 UTC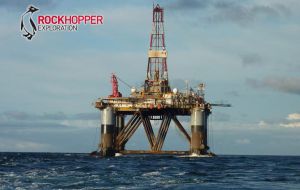 Rockhopper Exploration said that during the testing of its Sea Lion well in the Falkland Islands, problems limited the amount of oil extracted to just an average of 2000 barrels per day (bopd). Otherwise, it could have produced sustained rates of at least double that, at 4000 bopd, "without these constraints".
In a statement released on Friday, Rockhopper gave descriptions of the encountered problems, saying: "Rockhopper believes that the flow rate was inhibited by incomplete perforation, waxing of the tubing string above 800 metres, increased viscosity of the oil as it cooled in the upper part of the test string and a lack of specialist equipment."
"As such, the Company estimates that the well could have flowed at approximately 4,000 bopd without these constraints".
They added: "Rockhopper also believes that, with a more optimal well location and horizontal well completions, significantly higher flow rates could be achieved from future production wells."
Rockhopper was the first company of the several operating (and drilling) in Falklands' waters, to state that the Sea Lion prospects results were "commercially viable". However the latest update, although optimistic, is a reminder of the technical difficulties faced by oil companies in the South Atlantic.
Following the release of the update Rockhopper shares soared as much as 9.5% in London. The shares have accumulated an increase of 1.332% since the first announcement on the oil discovery in May.
The other companies with Falklands' government licences to explore for oil are Desire Petroleum, BHP Billion with Falkland Oil & Gas Ltd, Borders & Southern Petroleum and Argos Resources. Desire, Rockhopper and FOGL have drilled exploratory wells with the "Ocean Guardian" rig in Falklands waters since last February.