Chavez looses two thirds majority in Congress, but remains leading figure
Monday, September 27th 2010 - 14:48 UTC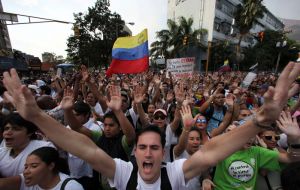 Venezuelan President Hugo Chavez suffered a serious setback last Sunday when he lost his two-thirds majority in the National Assembly reflecting increasing disenchantment with the charismatic leader and his administration's failures and pose a great challenge for his 2012 re-election aspirations.
Opposition candidates, who boycotted the 2005 congressional race, secured 52% percent of the overall popular vote, giving them enough seats to force Chavez to negotiate on key decisions, said Ramon Guillermo Aveledo, head of the Democratic Unity Table alliance.
Chavez's party, while securing at least 95 of 165 seats in the National Assembly after redrawing electoral districts, fell short of the 110-seat threshold needed to be given decree powers, approve the national budget and pass new laws single- handedly.
Opposition candidates won 61 seats and non-aligned indigenous candidates won 3 seats according to the results announced at 2 a.m. local time, eight hours after polls closed. Another 11 seats remain to be decided.
"This is a tremendous defeat of the Bolivarian project," said Friedrich Welsch, political analyst at the Simon Bolivar University in Caracas. "Chavez built his campaign on a vote of confidence in his socialist project and the majority of the people gave their votes to forces opposed to it."
In 2005 opposition candidates boycotted legislative elections over concerns of possible fraud and handed Chavez near-absolute control of the congress. However this time they took stock of voter discontent with rising crime, basic food shortages and 30% inflation to make gains. Venezuelans are increasingly dissatisfied with the government's management of the economy, now in its second year of recession, 3.5% in the first half of 2010.
Aristobulo Isturiz, the campaign manager for Chavez's United Socialist Party of Venezuela, said the government party did not reach its electoral goals.
"We were aiming for 110 deputies a goal which was not reached by any political party," Isturiz told supporters waving red flags outside the presidential palace.
Chavez called yesterday's results a victory for his Bolivarian socialist revolution.
"We've obtained a solid victory, sufficient to continue deepening Bolivarian and democratic socialism," he said in a message on his Twitter account. "We must continue strengthening the revolution: another victory for the people".
In 2007, Chavez suffered his only electoral defeat since taking office in 1999 when voters rejected 50.7% to 49.3% a referendum to change 69 articles of the constitution.
The truth is Chavez retained control of the National Assembly after gerrymandering districts last year to favor rural areas where he's more popular, analysts said. The changes mean that 20,000 people in pro-Chavez Amazonas state elected a single lawmaker, giving them the same representation as 350,000 people in the opposition-controlled capital of Caracas.
Furthermore the new congress does not take office until next January 5, so Chavez can still push through legislation granting him greater powers or measures curtailing the actions of the future assembly.
More than 66% of Venezuela's 17 million registered voters cast ballots. That compares with 61% in 2007 and 70% in another referendum to lift presidential term limits in 2009.
In a reflection of the country's polarized political climate, opposition supporters heckled Finance Minister Jorge Giordani as he cast his vote in the capital. Oil Minister Rafael Ramirez was met by protesters banging pots and pans.
"Take your economic policies to Cuba!," a group of 15 Chavez opponents shouted to Giordani as he left the voting center in Santa Monica, a middle class neighborhood in Caracas. Giordani called his opponents "the face of fascism."
Also hurting the government's approval rating are homicides that have more than tripled since Chavez came to power to a record 16,047 last year from 4,550 in 1998, according to the Venezuelan Observatory of Violence, a Caracas-based research group.
However Chavez remains as the main leader in the Venezuelan political scenario and is idolatrized among many poor Venezuelans who benefit from free health clinics and subsidized food markets.