Mujica rejects nationalization, preaches orthodox economics and praises the media
Tuesday, September 28th 2010 - 05:54 UTC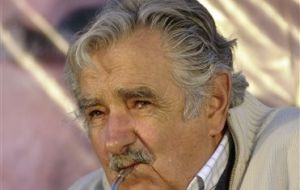 Uruguayan president Jose Mujica said that taking over companies by the state "is a solution that has been abandoned" and is the "perfect recipe to breed an oppressive bureaucracy".
In an interview with the leading Brazilian magazine "Veja" Mujica said that a balanced fiscal budget, an austere economy and no playing with inflation are issues "out of any debate be it by the left, right or centre".
"Ideological divergences must be restricted to the best way to distribute wealth", added the Uruguayan president who was interviewed at the modest farm where he still lives and plants flowers, and was described by 'Veja' as a most untypical Socialist.

Mujica said that certain economic policy rules should not change from one government to another and emphasized that economic growth is the basics of any wealth distribution.
"However the problem is that growth does not necessarily lead to poverty reduction or improved income distribution which should be the main targets of any government".
When asked about Hugo Chavez, Mujica said that although Venezuela is looking for a way to socialism, "it's hard for Chavez to follow along that path".
Mujica said he disagreed with role for the State that Chavez has chosen since "taking over companies belongs to the past, has been abandoned because it is the perfect recipe to develop an oppressive bureaucracy".
The Uruguayan president wished Chavez the best of luck, a "man he considers a good and close friend".
"Chavez has great determination and will but Venezuela has too many resources, too much oil, too much money and the result is a bureaucracy so large that 'Mama mia…'"
But Mujica said Uruguay was grateful to Chavez for "the big hand" he has given the country particularly by selling oil to pay in 15 years and at an annual interest of 2%.
Regarding the armed struggle of the sixties, Mujica a former guerrilla and one of several leaders of the Tupamaros National Liberation Movement, he admits that "too many mistakes were committed". Mujica spent over ten years in jail.
"The true political transformation must take place from downwards-upwards and not the other way round",
In what seemed a message to his peer Lula da Silva, currently confronted with the media, Mujica said rules must "support" criticism, otherwise "if they react, they loose twice, because a second attack will happen".
"When a government is tolerant with diversity, it helps to create a respectful media", but if it decides to become radical in its attitudes "the whole thing goes to hell and becomes rather dangerous, since the media becomes the sword of a dangerous struggle".
"The best media bill is that which does not exist, they should not be regulated", underlined the Uruguayan president.
As to his way of life Mujica admits not have worn a tie for over twenty years and revealed he cleans his own room and washes the dishes. "My wife Lucía cuts my hair, I live as I think".
As to the presidential job, what makes him feel most uncomfortable is protocol, "which sometimes becomes unbearable".