A woman mayor for Lima, where a third of Peruvians live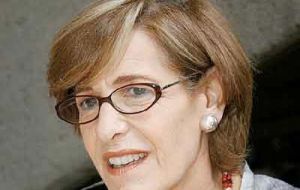 Regional and municipal elections in Peru this coming Sunday are expected to result in the first female mayor of Lima since the military dictatorship of the 1960s, as two women compete for the office in the final days of the campaign.
The Peruvian capital city is home to nearly a third of Peru's population, with about 8 million residents.
Though conservative candidate Lourdes Flores had a strong hold on the race a few months ago, she has lost her once-large lead in the polls to centre-left candidate Susana Villarán. With less than a week until the election, Villarán is predicted to receive 32% of the vote, while Flores is expected to get 26%.
Villarán, 61, describes herself as an admirer of former Chilean President Michelle Bachelet, who left office with the unprecedented approval rating of 84% in March.
Villarán has drawn repeated comparisons between herself and Bachelet throughout her campaign, particularly in response to attempts to tie her leftist political leanings to radical groups like the Shining Path, a Peruvian Maoist insurgent group that was most active during the 80s and early 90s.
"We will be, if elected to head the Municipality of Lima, a government of inclusion for all, like Michelle Bachelet in Chile, like Lula [da Silva] in Brazil," Villarán said late last week. "This is the government of Lima for all."
Before a failed run for the Peruvian presidency in 2006, Villarán served as minister for women's promotion and social development, as a commissioner and vice president of the Inter-American Commission on Human Rights, and as police ombudsman.
Female leaders of late have assumed the highest levels of political office in Latin American countries, including the presidencies of Chile, Argentina and, most recently, Costa Rica.
By Alison Silveira – Santiago Times