At least 30 Latam journalists killed doing their job in nine months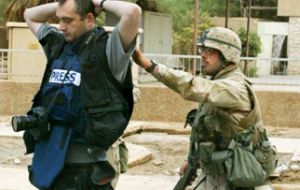 At least 90 journalists (30 in Latinamerica) have been killed doing their job so far this year, a 25% increase on the same period of 2009, the media watchdog Press Emblem Campaign (PEC) said this week. PEC has also called on the UN Humans Rights Council to urgently take up the matter.

"This is a failure, there is no progress, and the situation instead is deteriorating" a statement quoted PEC's secretary general Blaise Lempen as saying.

"Lempen called upon the media associations worldwide to become more active and that governments act in firmness to prevent crimes against journalists and fight against impunity," it added.

"He stressed that it is becoming essential to launch the process concerning an international convention to protect journalists to strengthen existing laws."

PEC claims Mexico remains the most dangerous country, with 13 journalists killed in the ongoing battles between the army and drug cartels in nine months. It is followed by Honduras and Pakistan, with nine deaths each.

"A number of journalists were targeted and executed in the border region between Pakistan and Afghanistan, which makes it one of the most dangerous regions for media work," the PEC said.

Five journalists were killed in Iraq since January, "a marked deterioration after a period of calm", another five in Russia's North Caucasus region "as a result of settling accounts", and the same number in the Philippines.

Three journalists were killed in Colombia, Indonesia, Nepal, Nigeria and Somalia, and two in Angola, India, Thailand, Uganda, Venezuela and Afghanistan, where two reporters from a French television station have also been held captive.

PEC said one journalist was killed in each of these countries: Argentina, Bangladesh, Belarus, Brazil, Bulgaria, Cameroon, Cyprus, Democratic Republic of Congo, Greece, Ecuador, Lebanon, Rwanda, Turkey, Ukraine and Yemen.

A Turkish journalist was also killed when Israeli forces boarded a Turkish-led aid flotilla heading for the Gaza Strip.

Regionally, Latin America saw 30 journalists killed in nine months, followed by Asia with 27, Africa with 13 in what the PEC called "a marked deterioration", and the Middle East with eight.