Improved animal breeds and feed helps reduce "carbon hoof-print", say FAO experts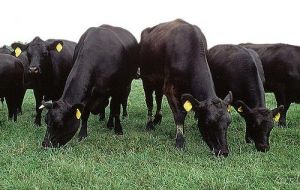 Soaring carbon emissions from a meat-hungry developing world could be cut back substantially by improving animal breeds and feed, according to a study. Demand for livestock products is predicted to double by 2050 as a result of growing populations, urbanisation and better income in the developing world, leading to rise in emissions from the industry.
It is estimated that livestock farming contributes 18% of the world's greenhouse gas emissions — and the study suggests that 12% of the total livestock-related emissions in 2030 could easily be curtailed with simple improvements in production.
"Organisations from the West, especially the World Watch Institute, have continued to blame livestock keeping as one of the major polluters of the world, yet livestock keeping's positives by far outweigh the negatives" said Mario Herrero, co-author of the paper and a senior scientist at International Livestock Research Institute.
Livestock farmers in developing countries have a relatively small environmental footprint and their animals provide them with food, income and transport for their crops.
"What these farmers need are technological options and economic incentives that help them intensify their production in sustainable ways" he added.
Greenhouse gas reductions could be quickly achieved in tropical countries by adopting simple practices, said the study, published in the United States Proceedings of the National Academy of Science earlier this month.
These include: switching to more nutritious pasture grasses; supplementing livestock diets based on grass with small amounts of crop residues or grains; restoring degraded grazing lands; growing trees that trap carbon while producing leaves that livestock could eat; and adopting more productive breeds.
Farmers could even earn more than 1 billion US dollars per year by trading their green credentials on the international carbon trading markets, the study says, boosting individual incomes by up to 15%.
Although farmers could participate in carbon markets as a way of regulating carbon emissions, Herrero said this would be very complex to implement.
Henning Steinfeld, coordinator of Livestock, Environment and Development Initiative at the Food and Agriculture Organization, said: 'If one were able to connect this to smallholder development by making poor farmers benefit through the possibility of carbon offsets and carbon markets that would indeed create a win-win situation where one would have socioeconomic benefits, targeting poor people, while reducing the carbon 'hoofprint' [the carbon footprint of livestock]'.
Improving livestock production should be done to improve livelihoods and not just for climate reasons, said Kirtana Chandrasekaran, food campaigner for Friends of the Earth. She added that intensive agriculture is also contributing to biodiversity loss so 'it's very dangerous' just to look at lowering emissions 'when there's a whole host of other factors' affecting improvement in livestock farming.