Peru, Chile, Colombia integrate stock-exchange operations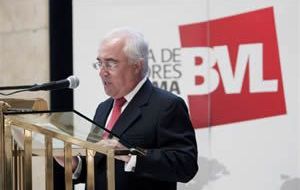 Integrated Peruvian, Chilean and Colombian stock-exchange operations are set to begin November 22 announced the president of Peru's stock exchange Roberto Hoyle who said that the integration would attract investors and increase competitiveness ."The integration will be an important step to increasing attractiveness and competitiveness, as well as greater capital flows," said Hoyle.
A spokeswoman for the Lima exchange added that the November 22 date represents the first phase of the integration and as of that date, investors in Lima would be able to buy Chilean and Colombian company shares via the Lima exchange.
The Peruvian market has a majority (53%) of shares linked to the mining industry while Colombia is mostly manufacturing /78%) and Santiago, the services sector (32%). It is estimated that average combined operations could reach 300 million US dollars per day.
During the first phase Chile, Peru and Colombia aim to start a system of cross- border transactions in stocks, and in a second phase, the three exchanges plan to establish a common market by the end of next year.
The integrated market would surpass Mexico in terms of combined market value and narrow the gap with Brazil, as well as incorporating securities such as bonds.
The combined market value of publicly traded companies in Chile, Colombia and Peru is 592 billion USD, compared with Mexico's 420 billion and Brazil's 1.29 trillion, according to an estimate from Bloomberg.
"The Lima Index has grown 24% over the past two months" Hoyle said who added that the integrated market will also spur the sale of local corporate debt to compete with greater availability of bonds in Colombia and Chile.
Peru sold 1.7 billion in corporate debt last year, compared with 7.5 billion in Chile and 7 billion in Colombia, according to an estimate from Bloomberg.
Hoyle also revealed that Argentina and Panama could also join the planned integrated exchange.
"Panama has shown interest, but the three countries decided to go with the current model as they've made more progress adopting similar regulatory policies," Hoyle said. "When the Argentine market recovers, the Merval could join the integrated market to compete with Brazil's Bovespa".