Brazil Foundation New York Joins the "New Brazil"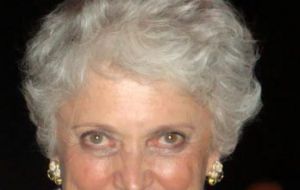 Spearheaded by Brazil Foundation President Leona Forman, and the event's Chair, advertising executive Nizan Guanaes, a stellar gathering of over 500 Brazilian leaders in banking, fashion and infrastructure industries reached into their purses and donated over US$2.4 million dollars for Brazil Foundation's efforts to support nonprofit organizations that provide opportunities for poor and marginalized communities across Brazil.
This year's Brazil Foundation VIII Annual Gala Benefit's theme was "The New Brazil," in recognition of Brazil's economic growth and heightened global profile, and featured multi-media presentations by former presidents Fernando Henrique Cardoso and Bill Clinton.
Beginning with the New Brazil's sponsor's luncheon at the elegant restaurant Cipriani Wall St, moving to the BrazilFoundation Gala Benefit at the Metropolitan Museum's majestic Temple of Dendur, and ending up at the "After-Party" fashionable Boom Boom Room at the Standard Hotel, - all sold-out events - it was a day and night to remember and relish, especially for the coffers of Brazil Foundation. Leona Forman's "birth child" that relies solely on a network of over 6,000 dedicated friends, supporters, donors and volunteers in the USA to generate resources for social projects in Brazil. Since 2002, Brazil Foundation has raised over $12.5 million dollars and supported 308 non-profit, small and medium social organizations in 24 Brazilian states in the areas of education, health, human rights, participatory development and culture.
Attending the star-studded gala at the Metropolitan Museum was the list of Brazil's "who's who" - top fashion models, designers, artists, business leaders, philanthropists including Roger Agnelli, President of VALE; Top Model Gisele Bundchen; Guga Valente, president of Grupo abc; Sergio Gordilho, president of the Advertising agency Africa; Zeco and Fabio Auriemo from JHSF; Makoto Kinoshita of Bank of Tokyo-Mitsubishi UFJ; and Simoni Morato, President of Safra Bank in New York. Also in attendance were financiers Todd Morley and George Weiss, Antonio de La Rua, Francisco Costa and Pierre Thome de Souza.
Following Brazilian pianist's Joao Carlos Martins' performance, five hundred people gathered at the Metropolitan Museum's spectacularly illuminated Temple of Dendur. During the sit-down dinner, a multi-media presentation on a huge screen recapped the humble origins of voluntary-based Brazil Foundation in Leona Forman's New York apartment after her 20 year career at the United Nations, as told by former presidents Fernando Henrique Cardoso and Bill Clinton, Brazilian writer Paulo Coelho, family and friends.
Guests, friends, donors, sponsors and benefactors celebrated the achievements of this year's Gala honorees Angela Gutierrez, CEO of Instituto Cultural Flávio Gutierrez, Eduardo Eugenio Gouvêa Vieira, President of the Federation of Industries of the State of Rio de Janeiro (FIRJAN), and Jair Ribeiro of Parceiros de Educação, honored in recognition of their exemplary efforts to bring education and professional training opportunities to underserved youth, giving them a chance to participate in Brazil's economic growth.
Throughout the evening, Master of Ceremonies, Nizan Guanaes rallied the guests and coaxed them to reach their $2 million target. Before the generous guests started to samba and celebrate on the dance floor by 'spins' from the famous 'DJ' Ze Pedro, the goal was surpassed. "I have the most beautiful check on earth," he announced around 9:45pm of a $50,000 donation from Giselle Bundchen. "I think I'm not going to discount the check written by Gisele. I'm going to keep it." Others phoned in donations, including Madonna who donated $25,000.
The party continued at the Boom Boom Room, where New York's hippest crowd gathered. It was hosted by Lorenzo Martone and Amanda Setton - a night full of celebrity eye-candy where the glamorous world of fashion and arts met, among them Fernanda Motta, Pedro Andrade, Jeisa Chiminazzo, Carlos Mota, Vik Muniz, Andrea Dellal, Jim Carrey, Kevin Spacey, Anne Hathaway and Leo DiCaprio.
Communication tycoon Nizan Guanaes has the reputation of turning anything he touches into gold. When asked by Leona Forman to chair the gala benefit, it soon became clear that he knew how to throw a great party, co-planning with the committee the details of the upscale 3-tiered eventful day. Their combined high impact efforts proved it and this year's invaluable supporters reinforced the importance of promoting social awareness. Last year's annual benefit gala netted $360,000 in comparison to this year's $2.5 million, mostly from Brazilian donors representing the face of the New Brazil. "I see Brazil Foundation growing in new ways, together with the New Brazil. Nizan, with his incredible ability to engage corporate and media support has opened this year new doors for Brazil Foundation into this new philanthropic private and corporate world," commented Leona Forman.
Born in China to a Russian Jewish family who moved to Brazil when she was 13, citizen of the world, Leona Forman, emphasizes, "Brazil Foundation would be no where without the dedication of our volunteers." After her compulsory retirement from the United Nations, where she worked at the Department of Public Information with struggling NGOs and the press, she pioneered the idea of how to give back to Brazil. The seeds of the foundation started out when Brazilian-Americans and lovers of Brazil gathered in her home to discuss creating a nonprofit organization that would assist social projects in Brazil.
Since its incorporation in 2000, and after moving outside of her apartment headquarters, the Brazil Foundation has operated a fundraising and policy development office in New York and a program selection, monitoring and evaluation office in Rio de Janeiro under the direction of Vice President Susane Worcman. For 2010, Brazil Foundation received a record-breaking 1,112 proposals from non-profit organizations throughout Brazil. "Much to our amazement, NGOs from all over this vast land learn about our grants and we are so excited to be able to give citizens this extra boost needed for them to contribute to positive change as active members in their communities." There were 21 new grantees in 2010. In August two social entrepreneurs from each grantee organization traveled to Rio de Janeiro for a two-day boot-camp immersion program. Grantees include a poor community in Natal offering computer, theater and music classes to 80 children and adolescents, teaching about environmental issues to the 72 families along the banks of Riacho Olho d'Agua River who suffer from environmental degradation, and psychological, legal, social assistance to 300 female victims of domestic violence at the Basic Family Health Care Center of Uberlandia in Minas Gerais.
Exclusive for MercoPress by Dina Pinos in New York