Spain on the steps of the Argentine crisis of 2001, warns Stiglitz
Monday, October 4th 2010 - 01:19 UTC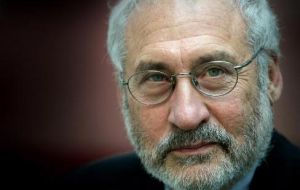 Spain could face a crisis similar to that of Argentina back in 2001 because of its incapacity to create jobs and reduce the fiscal deficit, which makes it an easy prey for international speculators.
The statements belong to Economist Joseph Stiglitz, former World Bank economist and Nobel Prize in the advance of his latest book "Freefall", some extracts of which are published in The Sunday Telegraph.
"Spain may be entering the kind of death spiral that afflicted Argentina just a decade ago" said Stiglitz. "It was only when Argentina broke its currency peg with the dollar that it started to grow and its deficit came down. At present, Spain has not been attacked by speculators, but it may only be a matter of time".
Spain is a victim of the "rules of the game" which force cuts in outlays and "most certainly lead to an increase in unemployment" and in that context the Spanish economy will slowdown and its fiscal position will only improve slightly.
"The death spiral means less growth, less government revenue, but greater social outlays such as unemployment pay, and which deficits will continue to be very high", argues Stiglitz.
As is the case with Greece the US economist believes that speculators have not abandoned their prey, convinced of the weakness of the Spanish economy that had its credit rating reduced last week by Moody's from AAA to Aa1.
"At the moment Spain has not been attacked but it could be a matter of time", said the former economic advisor of the Bill Clinton administration.
Attacks on Greece in financial markets have shown that deficits can't be ignored and can lead to increases in interest rates, which in the long run only worsen the fiscal situation of countries.
"The candid replies such as cutting expenditure and/or increasing taxes only make things worse, as was dramatically exposed by the market's reply to the Spanish budget cuts" adds Stiglitz.
The root of the problem in countries such as Spain and Greece is that they can't use their currencies to adjust the economy since the Euro has a fixed exchange rate.
"If Greece and Spain had devalued their currencies their economies would have strengthened thanks to exports", points out Stiglitz recalling that "only when Argentina broke loose from the fixed parity to the US dollar, was when it begun to grow and reduce the deficit".
Further on Stiglitz says the future of the Euro is "bleak" and could "not survive" another financial storm such as that suffered in 2008. The economist was particularly critical of the European governments because they are making drastic and precipitated budget cuts which could lead again into recession.
"Because so many countries are involved in cutting expenditure prematurely, global aggregate demand will contract and growth will slow down, which could again force us into recession".
United States could have triggered the global recession "but it is Europe that is now responsible".
"The Euro zone needs better economic cooperation, not just the kind that merely enforces budget rules, but cooperation that also ensures that ... when countries experience large adverse shocks, they get help from others," he wrote.
"Europe created a solidarity fund to help new entrants into the European Union ... but it failed to create a solidarity fund to help any part of the Euro zone that was facing stress. Without some such fund, the future prospects of the Euro are bleak."
Stiglitz said the Euro lacked the institutional support it needed to make it work, but argued the single currency could be saved by the exit of Germany from the Euro zone or the division of the Euro zone into two sub-regions.
"If Europe cannot find a way to make these institutional reforms, then it is perhaps better to admit failure and move on than to extract a high price in unemployment and human suffering," he said.