Uruguay's debt/GDP ratio down after five quarters running increases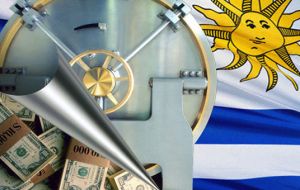 Uruguay's gross public sector debt contracted in the second quarter of the year after five consecutive periods of sustained increase and now stands at 21.885 billion US dollars equivalent to 59.5% of GDP.
That represents 649 million USD less than at the beginning of the year, according to the latest release from Uruguay's central bank.
The current debt/GDP ratio is at its lowers since the first quarter of 2009 when it stood at 57.2%. In net terms (gross less assets), the figure is 11.792 billion USD which means that the GDP ratio has fallen from 35.1% to 32.1%.
Net debt is used to control the debt cap of countries and registered a drop of 71 million US dollars compared to Jan 2009.
Net debt excludes provincial government debts, includes all public sector liabilities and assets plus the monetary base.
For all 2010 the maximum debt increase has been established at 350 million USD which really is 420 million USD.
Gross public debt was down in the second quarter pushed by lesser levels at the central government and at the Central bank that helped to compensate indebtedness of local governments.
Central government total debt was 15.3 billion USD, 522 million less that the previous quarter. At the Central bank the fall was 210 million USD which means total debt stood at 5,179 billion USD.
As to the maturing structure, 69% has to be repaid in five years time or more; 17% between June 2011 and June 2015; 14% in the coming twelve months. This is virtually unchanged from the first quarter of the year.
As to the currency in which the debt has been issued; 56.4% is in US dollars; 37% in Uruguayan pesos and the remaining 6.6% in Euros, Yens and SDR. A majority of the outstanding debt is in the hands of non residents, 57% and the rest locally.