Brazil's Greens confident they hold the key to Lula da Silva's successor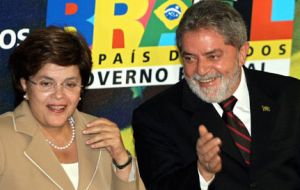 Brazil's Green party considers that their presidential candidate Marina Silva and her demands in support of an environmental policy will be decisive in the run off between the ruling Workers Party Dilma Rousseff and runner up Jose Serra from the Social Democracy of Brazil (PSDB).
"Whatever path Marina takes will give a clear indication of who is the next Brazilian president, therefore it is a most responsible decision, and in soccer terms, it's time to cool the game and work on a consensus", said Mauricio Brusadin, head of the Green Party's Sao Paulo branch.
Marina Silva surprised all public opinion polls when last Sunday she garnered almost 20% of the ballots, since she was forecasted to be in the range of 7 to 10%.
Dilma Rousseff, President Lula da Silva's handpicked candidate was supported by 47% of ballots and Serra, 33%, all short of the 50% plus one to avoid a run off at the end of October.
Representatives from Dilma and Serra are expected to begin talks with Ms Silva and the Green party this week.
"The party will make no statements until as Marina recommended, we listen to the people who voted us last Sunday, the political establishment and society", said Brusadin.
Marina Silva for almost 30 years was a member of the Workers Party which was founded by Lula da Silva and had Ms Rousseff as an affiliate. She joined the Greens in 2009. Ms Silva was Environmental Affairs minister in Lula da Silva's cabinet but stepped down on differences over policies regarding the exploitation of the Amazon.
According to analysts Greens are not unanimous in their position as to how to vote in the run-off. But campaign coordinator Joao Paulo Capobianco said that "point number one is to know if candidates accept our political platform since both (Dilma and Serra) have an economic, social and cultural development model which is different to the one we propose".
Meanwhile Serra and his PSDB have agreed to modify their campaign slogan as part of their strategy ahead of the 31 October second round when they will be clashing with the former cabinet chief of Lula da Silva.
According to Folha de Sao Paulo, "Serra is the good (as opposed to evil)" will replace the previous "Brazil can go for more", which basically transpired the promise of continuing with the policies of Lula da Silva, the most popular president Brazil has had in six decades
The good-evil antinomy refers to the background of economist Ms Rousseff who was a pro Marxist guerrilla fighter in the early seventies, a sensitive issue for some generations of Brazilians, and the fact she could once in office be surrounded, or even dominated by radicals.
One thing is to have radicals inside the Workers party under control of the overwhelming stature of Lula da Silva and another with Ms Rousseff who apparently is a most efficient bureaucrat but had no political-electoral experience except for this time.
Furthermore her campaign prospered under the impulse of the president's sweeping popularity, 80% approval rating, a record for any outgoing democratic leader in the world.
The opposition claims Lula da Silva broke all possible electoral rules to campaign for his successor, and it wasn't enough…
Lula da Silva recalls his own experience in 2002 and in 2006 when on both occasions he had to face a run off a month later in spite of winning the first round.
The seasoned president (who was four times hopeful before being elected in 2002) admits that obtaining 50% of the vote in the first round "is not easy".
Serra's campaign in the month ahead will also have the full support from Geraldo Alckmin re-elected Sao Paulo governor and elected Senator Aecio Neves, both considered natural successors as PSDB leaders if Serra is knocked out.
"We must unite to confront the encirclement of the ruling party", said Sergio Guerra PSDB chairman.
PSDB plans to take advantage of the better than forecasted results of last Sunday which has encouraged its militants, while the Dilma side licks its wounds since opinion polls showed she had an excellent chance of winning in the first round, but failed.
All previous opinion polls also indicated that even if there's a run-off, Lula da Silva's candidate would win relatively easy. But no one expected the Greens' turnout surprise.