IMF chief admits danger of "currencies as a policy weapon"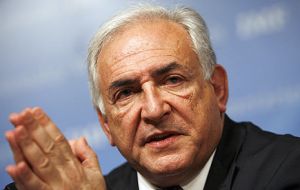 Countries risk undermining the global economic recovery if they use their currencies to try to boost domestic growth, the head of the International Monetary Fund warned on Tuesday in a newspaper interview.
IMF Managing Director Dominique Strauss-Kahn made the comments ahead of the fund's October 8-10 annual meeting in which currency depreciations by governments to boost exports will be a key issue.
"There is clearly the idea beginning to circulate that currencies can be used as a policy weapon," Dominique Strauss-Kahn said in comments published on the FT website on Tuesday.
"Translated into action, such an idea would represent a very serious risk to the global recovery... Any such approach would have a negative and very damaging longer-run impact," he said.
Brazil, whose finance minister has warned of an international "currency war" on Monday doubled a tax on foreign investors buying local bonds to 4% to curb a strong Real, boosted by high domestic interest rates and a commodity boom.
"We have seen reports that some emerging countries whose economies face big capital inflows are saying that maybe it is time to use their currencies to try to gain an advantage, particularly on the trade side," Strauss-Kahn said.
"I don't think that is a good solution".