Abortion becomes an issue in the Brazilian presidential run-off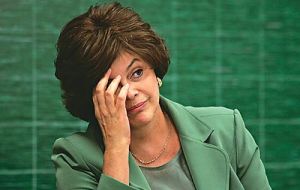 Brazil's ruling party candidate Dilma Rousseff is playing up her Roman Catholic background in efforts to win back religious voters, whose doubts about her faith and position on abortion rights may have cost her an outright victory in Sunday's presidential election.
In a surprise shift, many religious voters who oppose abortion, especially evangelical Christians, abandoned Rousseff's centre-left Workers' Party to vote for the Green Party's Marina Silva, who captured an unexpectedly large 19% of the vote.
"Personally, I'm from a Catholic family. I am and always was in favour of life" Rousseff has been telling the press. "I have no problem addressing the religious issue. My project addresses all the religions."
However she did not elaborate on the Internet videos in recent weeks showing Rousseff, a former neo-Marxist guerrilla leader, favouring the decriminalization of abortion, which in Brazil is illegal in most cases and a highly controversial issue.
One of the videos where she makes abortion-rights comments is as recent as 2007. Folha de Sao Paulo also revealed that Ms Rousseff defended legalization of abortion in the past to newspapers and places like the magazine Marie Claire.
Two-thirds of Brazil's 191 million people are Roman Catholics, making it the world's largest Catholic nation. But the number of those professing evangelical beliefs, some 20% of the population, is growing fast.
"It will be really ugly if the Workers Party pulls abortion rights from its agenda" said Regina Soares, a spokeswoman for the abortion-rights group Catholics for the Right to Decide. "Abortion is a problem of a huge size, which has same importance as unemployment and homelessness" she said.
Abortion is illegal in Brazil except in the case of rape or if the mother's life is in danger. Yet one in five Brazilian women under age 40 has had an abortion, the vast majority illegally. Half of those women end up in the hospital as the result of complications, said Marcelo Medeiros, an economist and sociologist who coordinated a 2009 government-funded abortion study.
Last Sunday support for Ms Rousseff eroded in part because the Catholic religious right aired ads portraying her as pro-abortion-rights. To shore up votes, the Workers Party is considering whether to dump its promise to see abortion rights debated in Congress.
"It's time to involve more directors in the campaign," Andre Vargas, the Workers Party communications secretary, told the Brazilian daily Folha de Sao Paulo earlier this week, saying the party had been precipitous in promising to raise the question. "It was an error to be led internally by some feminists: I and others were against" abortion rights.
Indeed, Vargas slammed Rousseff's rival Jose Serra, the centrist candidate and a former governor of Sao Paolo state, for being pro-choice.
"The truly Christian Brazil won't vote for the person who introduced the morning-after pill, which in practice stimulates millions of abortions: Serra" Vargas wrote over Twitter. In fact, the morning-after pill was introduced in Sao Paulo state before Serra became governor.
In his more recent position as Brazil's health minister, Serra, along with the Workers Party, has advocated for a debate on abortion in Congress in the name of public health. But during his campaign, Serra declared himself anti-abortion.