Chilean inflation jumps 0.4% in September pushed by food prices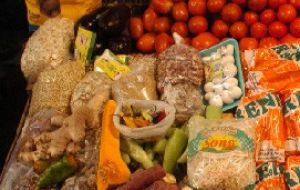 Monthly inflation in Chile quickened as the cost of food and beverages rose the most in at least 20 months. Consumer prices rose 0.4% in September from a month earlier, the National Statistics Institute, INE, said Friday compared to a 0.1% decline in August. Food and beverage prices rose 1.4 percent last month.
In the first nine months of the year consumer price inflation accumulated 2.7%. September was the seventh month running that the index is up.
Annual inflation will accelerate in coming months as the Chilean economy continues to expand, ending 2010 above the central bank's target rate of 3%, said Alfredo Coutiño, director of Latin America at Moody's Analytics.
"The central bank will continue to normalize monetary conditions" Coutiño said in a note e-mailed to investors. "The strong domestic demand fuelled by expansionary fiscal and monetary policies is also pushing some consumer prices up, after the disinflation of last year".
Consumer prices rose 1.9% in September from the same month a year earlier, down from 2.6% in August, Friday's report showed.
Core consumer prices, which exclude fuel and fresh fruits and vegetables, increased 0.4% in September from the previous month, said INE. Transport costs increased 0.7% in September as the cost of clothing and communications shrank 0.2% and 0.3% respectively.
Policy makers at Chile's central bank have been surprised by low consumer prices, the central bank said in the minutes of the September monetary policy meeting.
Some policy makers said the unexpected pace of consumer price changes reflects transitory factors and one board member said annual inflation will continue to rise to the higher end of the bank's target range of 2% to 4% before leveling off at 3%, the minutes said.
The Peso's appreciation, the currency reached a 27-month high against the US dollar on October first, has had an effect on inflation in Chile, central bank President Jose De Gregorio said Oct. 6 in an address before Congress.
A stronger Peso reduces the prices of imports, which grew 44% in September from the previous year to 4.7 billion US dollars, according to central bank data.