Tuesday, should be Rescue Day for the 33 Chilean trapped miners
Saturday, October 9th 2010 - 00:32 UTC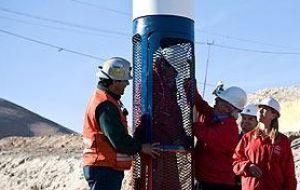 Chilean rescue teams hope to start evacuating next Tuesday the 33 miners who have been trapped 700 metres underground for two months in a survival story that has gripped the world.
Chile's Health Minister Jaime Manalich said he expected the drill boring a rescue shaft to the miners to break through into the tunnel where the men are located during the evening.
Engineers must then decide how much of the inside of the shaft to line with metal tubing before hoisting the men to the surface in special capsules, Manalich said.
That means the evacuation timing could slip. But Manalich said he hoped the evacuation could start on Tuesday.
Relatives of the trapped miners sang and prayed all night around a bonfire at the mine-head in Chile's Atacama Desert waving banners and lighting candles for each of the men.
In one of the world's most challenging rescue operations, engineers first bored tiny drill holes the width of a grapefruit to locate the men stuck in a tunnel 700 metres below ground -- equivalent to 233 storeys.
They found them 17 days after the cave-in, miraculously all still alive, when the miners tied a message to the perforation drill, triggering celebrations across Chile. Rescuers used the bore holes as an umbilical cord to pass them high nutrition gels, water, medicine and later solid food to keep them alive.
Trapped for 64 days, the men have set a new world record for the length of time workers have survived trapped underground after a mining accident. They are in remarkably good health.
"Hopefully, God-willing, in a few days, we will be able to cry as a nation in happiness, just as we did when we found out they were alive, when we see them emerge from the depths of the mountain and hug their wives and children," President Sebastian Piñera said.