Falklands fishing boat and Argentine Navy "unsettling' encounter
Tuesday, October 12th 2010 - 00:57 UTC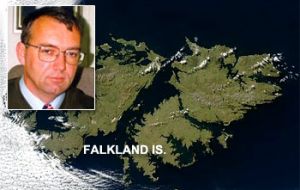 An encounter between an Argentine Naval vessel and trawler fishing in Falklands waters was described as 'unsettling' today by Director of the Falkland Islands Fisheries Department John Barton.
Falklands' vessel Venturer was fishing three and a half miles inside the Falklands Outer Conservation Zone southern sector on Thursday, when an Argentine Naval vessel approached and informed the captain that the vessel was fishing illegally in Argentine waters and demanded it leave the zone.
The Argentine naval ship moved on and the Falklands vessel, concerned about the close proximity of the armed ship, steamed further into Falkland's waters.
Mr Barton said the Captain immediately informed Falklands Fisheries Operations of the incident and the position of the Venturer was polled on the vessel monitoring system in case of any debate.
He said a similar incident had not occurred for approximately four years, adding. "It is certainly a bit unsettling to see an unfriendly vessel comes into view but if folks are sure of their legal position then that should provide them with some reassurance. The Venturer moved further into the zone as the ships were clearly visible to each other - the Argentine vessel was right on the edge of the zone."
Mr Barton said there are around twenty vessels currently fishing for finfish including rock cod and blue whiting, in Falklands' waters.
He added, "If the Argentine government was more interested in good conservation we would be keen to get back to the useful process of the South Atlantic Fisheries Commission."
By Lisa Watson – SeAledPR – Stanley