UN corn and soybean futures resumed rally on Monday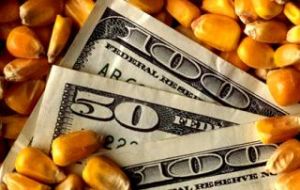 United States corn and soybean futures resumed their rally Monday as a surprising government crop report from last week continued to drive concerns over supplies.
Chicago Board of Trade December corn futures surged 40 1/4 cents, or 7.6%, to $5.68 1/2 a bushel, while soybeans futures climbed 41 cents, or 3.6%, to $11.76 a bushel. Trading was stopped on both commodities Friday after prices hit exchange-imposed limits.
The rally in agricultural commodities could have an effect on everything from global food prices to U.S. ethanol policy.
The corn and soybean markets continue to be fueled by Friday's U.S. Department of Agriculture supply-and-demand report. The USDA issued sharper-than-expected reductions in estimates for corn and soybean crops and ending stocks for next year, while also saying demand for the commodities remains strong.
Corn is the leading the rally as the USDA lowered projected 2010-11 ending corn supplies below 1 billion bushels and projected stocks as a percentage of usage at a 15-year low.
In the short term, traders and analysts are watching to see what level prices must reach for a pullback in corn demand to offset tight supplies. Several traders and analysts said demand should begin to ebb at around $6 a bushel, but Friday's report has also prompted forecasts that prices could climb even higher.
Soybean markets also are getting a boost from the USDA report, which cut projected inventories as of next summer by 24%. Given the tighter supply outlook, the market will be more sensitive to weather in South America that could disrupt the soybean crop there.
Higher grain prices are spilling over into the livestock markets as well because corn and soybeans serve as feed for herds. Chicago Mercantile Exchange lean hog futures for delivery next summer climbed on expectations of higher feed costs. Yet live cattle futures retreated with the market getting overheated Friday on concerns over grain prices, traders said.
The rise in grain prices will take time to affect retail meat prices around the world, since supplies for slaughters aren't likely to change in the near term. Yet an international poultry trade group warned Monday that consumers should anticipate higher prices ahead.
"Feed is by far the largest cost in getting chicken, turkey, and duck meat to the consumer's table," the International Poultry Council said.