Abortion debate in Brazilian campaign has both candidates on the defensive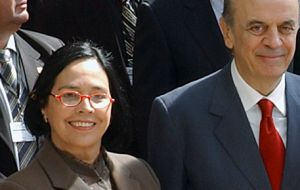 Brazilian opposition presidential candidate Jose Serra denied his Chilean wife Monica Allende had an abortion and compared the claim with the "defamation" suffered by President Lula da Silva when he was a candidate in 1989.
In response to the report published in the press the Jose Serra campaign team points out that "Monica Serra never had an abortion. The claim which is false and has been circulating in internet for some time, repeats the 'Miriam Cordeiro' model of which then candidate Lula da Silva was a victim".
In the 1989 elections the main candidate and later winner Fernando Collor de Mello paid Miriam Cordeiro, a former girlfriend of Lula da Silva to state that he had offered her money to have an abortion while pregnant of their daughter Luriam.
Later Mirima and Lurian (who is now a journalist and a member of the ruling Workers Party) dismissed the version from Collor de Mello and supported the current president who always denied such a proposal.
According to Folha de Sao Paulo, psychologist and former dancer Monica Allende back in 1992 admitted before her ballet class at the University of Campinas having had an abortion when together with her husband they were on the hit list of the Brazilian and Chilean military dictatorships.
Brazilian dancer Sheila Ribeiro, 37, and wife of Italian anthropologist Massimo Canevacci and another member of Mrs Serra class who did not give her name, confirmed on Saturday to the newspaper the rumour that had been circulating in the web for some time.
The statement by former students of Monica Allende caused quite a shock since Mrs Serra during a recent political rally in Rio do Janeiro claimed that Dilma Rousseff the incumbent candidate was a "devourer of babies" for allegedly wanting to legalize abortion in Brazil, if she finally is elected president.
Rousseff and Serra are the two candidates for the October 31 runoff after having obtained 46.9% and 32.6% of ballots cast October 3. Since then the campaign has concentrated on abortion and less on the economy trying to capture the disgruntled Catholic and Evangelist vote. Ms Rousseff was forced to reiterate her opposition to abortion and promise not to make current legislation more flexible.
In Brazil abortion is banned expect for cases of rape or life-danger of the mother.