US drillers who reached the miners receive heroes welcome
Monday, October 18th 2010 - 00:58 UTC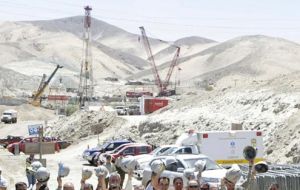 Four United States drillers who helped free 33 Chilean miners from two months of confinement underground returned home to Colorado Saturday. The men were greeted by more than a dozen family members, who anxiously awaited their return.

"This is America at its best," Julie Ruybal, the sister of Jeff Hart (one of the drillers), said. "We took our people, we took our talent, our money and we took my brother! Yeah, that's America. That's America at its best!"

Ruybal's brother Jeff Hart was one of the drillers who worked to free the miners.

"The Chilean people were just so grateful for what we did," Hart said. "They're phenomenal!"

Hart's family considers him a hero. But Hart says the miners are the ones who deserve the credit.

"They real hero: there was one gentleman in that mine that took control for 14 days and had 33 guys live on one can of tuna fish a day for two weeks," Hart said.

Hart's three colleagues from Colorado stood by his side as he was interviewed by the media. One of them, Jorge Herrera, still can't comprehend the mission he just helped complete.

"I don't know if any words can express what I feel over there," Herrera said. "I was so happy we did it 100 percent right."

Matt Staffle, another driller, added: "It was amazing to be a part of something so important. I'm really glad we could help out. I couldn't be happier for the families."

"I work in mining," Doug Reeves, another driller, said. "I know how my family feels when I get home. How much they miss me. I was glad I could get those guys home to their families."

The four drillers will spend some time with their families before heading back to Afghanistan, where they will continue work drilling for water on a contract with the US Army.

The team of experienced drillers operates the US made Schramm T130 drill which a week ago bored its way down to the chamber where the miners were trapped.

The Chilean government requested through the State Department help for the precise drilling.