Fiat plans to invest 6 billion USD by 2015 in Brazil to boost production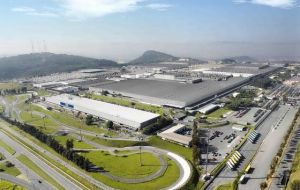 Italy's Fiat will invest 10 billion Reais (USD 6 billion) in Brazil by 2015 in operations that include production of cars, auto parts and agricultural machinery.
Seventy percent of the total will be invested in cars, with the company expecting in 2011 to unveil 20 new models or upgraded version of current ones, executives said this week in Sao Paulo and Belo Horizonte.
By the end of the year, the company will provide further details on the breakdown of its investments, press officials said.
Fiat's factory in the Brazilian state of Minas Gerais is operating close to the limits of its 800,000-unit-per-year capacity as strong demand in the nation's domestic market has continued even after the government lifted tax incentives for car purchases.
To meet the strong demand in Brazil, Fiat expects to triple production in the next two years at its Argentina facility.
In March, Fiat opened a 1 billion Real (592 million USD) facility in Brazil to produce agricultural equipment. Fiat is the market leader in car sales in Brazil.
According to Brazilian Motor Vehicle Manufacturers Association, Anfavea, Brazil plans to export 750,000 exports this year, including assembled and unassembled vehicles, with revenue of 12.8 billion USD, from its previous estimate of 620,000.
Brazilian car exports reached 569,524 in the first three quarters of this year, more than 76% higher than volumes for the year-ago period, Anfavea said.